This week in movies you missed:
At a time when drug wars and their casualties are making headlines, this 2013 documentary by Shaul Schwarz offers a harrowingly intimate look inside Mexico's Ciudad Juárez, the city that was, until recently, the murder capital of the world.
Since the film was shot,
the inter-cartel violence may have moved elsewhere
, but its causes haven't receded.
What You Missed
In 2010, photojournalist Schwarz was covering "narco culture" for a
National Geographic
story. One day he went straight from the site of two murders in Tijuana to a Californian club where a popular
narcocorrido
band was celebrating the culture of drug violence. "He was still covered in blood," writes Coburn Dukeheart in
this Nat Geo story
:
The bizarre collision of witnessing actual violence, paired with people celebrating killing in the music of the narcocorridos, totally jarred him. It was at that moment he decided to make the film.
Schwarz spent three years with sources in Juárez and Los Angeles, gaining their trust and getting footage with a crew of just two (himself and a soundman/interpreter).
The film tells two parallel stories on two sides of the border. In Juárez, mild-mannered crime scene investigator Richi Soto does his work on streets that, in one scene, literally run with blood. He wears a mask so he can't be targeted for cartel retaliation, and tells the stories of fellow cops who were murdered for doing their jobs. His mom, a small-business owner, describes the rampant extortion rackets that have left storefronts empty all over the city.
Meanwhile, in LA, young dad Edgar Quintero is the lead singer of narcocorrido band BuKnas de Culiacan. His folk ballads set in drug culture have lyrics like "We're bloodthirsty, crazy, and we like to kill" — and a huge, enthusiastic audience in both Mexico and the U.S. With copies of narcocorrido CDs flying off Walmart shelves, the genre could well be, as one practitioner says, "the next hip-hop."
Why You Missed It
Released in 46 U.S. theaters, none here. Now on DVD and Netflix and Amazon Instant.
Should You Keep Missing It?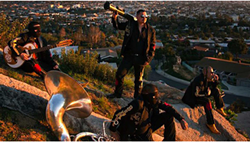 Narco Cultura
is not one of those docs where talking heads discuss a social problem. Schwarz and his camera get down in the trenches: We watch Quintero's drug-lord friends pile big bags of meth on a table; we hear the angry laments of bystanders to the violence in Juárez, many of whom blame the federales as much as the cartels. We see murder scenes and CSI techs working on mangled corpses.
This is a fly-on-the-wall documentary full of graphic, unforgettable images, including a cemetery in Culiacán where cartel members, mowed down in their prime, lie in colorful monuments styled like mansions. Schwarz keeps commentary and interpretation to a minimum, though his editing sometimes gets very pointed. (For instance, we watch a U.S. border guard call his boss after Schwarz stumps him with a question about the patrol's success in keeping out drug traffickers.)
If you're like me, the only thing you knew about narcocorridos before this movie was that
one was featured on "Breaking Bad."
Given that ignorance, I found myself wanting more insight into the music and its culture than the film offers.
It's natural to be shocked by the contrast between Quintero, who lives comfortably in LA and sings blithely about horrors that he has to research via YouTube videos (he's never worked for a cartel or even spent much time in Mexico); and Soto, who deals with those horrors every single day. Some viewers may do a Tipper Gore and leap to the conclusion that narcocorridos incite violence and should be banned, based solely on their murder-glorifying lyrics.
But think of all the popular music genres that have glorified violence and criminality over the years.
"Murder ballads"
have been around for centuries, since long before Nick Cave got hold of them. It's always hard to draw direct connections between violence, the art that represents it, and the fans who eat up that representation.
Schwarz doesn't address those issues, but neither does he simply condemn the narcocorridos. He offers a nuanced portrait of Quintero and shows us Soto's family in Juárez listening to the genre, too.
Verdict:
For all Cormac McCarthy's high-toned pontificating about chaos in last fall's
The Counselor
(which was set in the world of Juárez drug trafficking), I got a far stronger chill from
Narco Cultura
.
In Theaters This Week
Helen Mirren serves French food in
The Hundred-Foot Journey.
Michael Bay does
Teenage Mutant Ninja Turtles
. Happy feet do dancey stuff in
Step Up All In
. Tornadoes do tornado stuff in
Into the Storm
.
And at the Roxy, there's a sci-fi/romantic thing called
I Origins
, which is not about an Apple product (I think).
This Week in Your Living Room
"Community," season 5,
Divergent, Oculus, God's Not Dead, Need for Speed
.