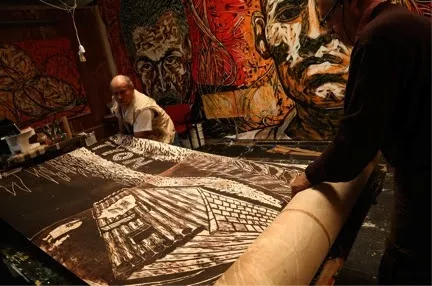 Courtesy of Goddard College
The Art Crawl at Goddard College on Wednesday, July 30, features "Migration to Chicago," a 200-foot-long, 48-inch-wide woodcut depicting a history of U.S. immigration. It's believed to be the largest print in the world, according to a college press release.
"Migration to Chicago" comes to Goddard by way of Alexy Lanza, a currently enrolled MFA student who immigrated to Chicago from his native Honduras. He's a member of the Mestizarte Workshop, the Chicago-based artist collective that created the massive print in the 1990s (at the time, the collective was called the Mexican Printmaking Workshop).
"In my opinion, the great historic and aesthetic worth of this monumental print doesn't rest necessarily in its size but rather in the summation of the different factors in the process of its artistic creation," says Lanza in a statement.
The print — which was made from 25 sheets of 4-by-8-foot plywood and 50 pounds of ink with a 3-ton asphalt roller — has been languishing in storage for decades. The Art Crawl at Goddard will be the first time it's been displayed since a poorly attended exhibition in the '90s, Lanza says.

The Goddard Art Crawl is July 30, 6:30-8:30 p.m.