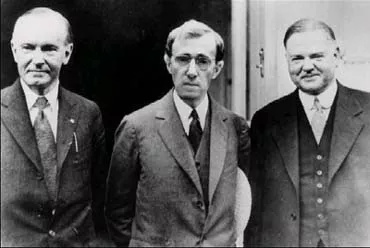 Warner Bros. Pictures
Woody Allen as the chameleonic Leonard Zelig
Though I grew up on Woody Allen's films, I gave up on them about 10 years ago, around the time of
Match Point
(2005). Though that film garnered a lot of critical praise, I found it stupefyingly dull and barely competent.
Match
Point
apparently represented a kind of late-career renaissance for Allen, as he has used it as a generalized stylistic and narrative template for the nine films he's directed since — none of which I've cared to see.
They just don't interest me anymore, and neither did any of the eight or so Allen films that preceded
Match Point
. (
The Curse of the Jade Scorpion
was maybe the nadir.) Sometimes you just have to cut your losses.
Je ne regrette rien
.
I hate to be one of those guys who says of Allen, "I only really like his earlier, funny stuff" ... but that pretty well sums it up for me. His run of 1970s comedies — including
What's Up, Tiger Lily?
;
Take the Money and Run
;
Bananas
(which I "quoted" in my own undergraduate thesis film);
Everything You Always Wanted to Know About Sex
;
Sleeper
; the uproarious
Love and Death
— are still my favorites.
I also admire his 1980s and '90s "serious comedies" including
Stardust
Memories
,
Hannah and Her Sisters
and, best of all, two films that are stylistically and thematically linked:
Husbands and Wives
and
Crimes and Misdemeanors
. These last two are incredibly incisive, brilliantly made films, and they rank among Allen's best.
But for me his very best film is 1983's
Zelig
, the mock-documentary about Leonard Zelig, a chameleon-like man who had no identity of his own.
Zelig
is not only incredibly funny, but a milestone in the mock-doc form. Not because it's believable enough to make viewers think it's an authentic documentary (the movie makes no attempt to hide that it's Allen himself playing Leonard Zelig in its "stock footage"), but because of its absolutely seamless integration of archival footage and newly shot film. These days, filmmakers use digital trickery to combine vintage and new film, but I find Allen's analog-only approach far more convincing. (Compare its approach to the already-dated technology used to the same effect in
Forrest Gump
, for instance.) I consider
Zelig
a cinematic landmark for this reason; it happens to be very funny and quite poignant, as well.
About two weeks ago, I watched a Woody Allen film that I never thought I would.
Men of Crisis: The Harvey Wallinger Story
is a half-hour film that Allen made for WNET, New York City's PBS affiliate, in 1971. Though not exactly "lost," the short film was never broadcast in the early '70s and, since then, it's been in limbo.
Half-forgotten and seldom seen for more than two decades, the film resurfaced on videotape about the time of a
1997 New York Times article
about its production history. But Allen never consented that the film be shown, at least in part, the article suggests, because he was not especially proud of it.
The struggle to see this film continues in the internet age:
Men of Crisis: The Harvey Wallinger Story
was recently uploaded, apparently illegally, to YouTube, which is how I was able to finally see it. Since then, the online version of the film was yanked, pending a copyright claim filed by WNET. (Depending on whom you ask, it's either comforting or chilling that YouTube's/Google's lawyers are so vigilant.)
But then the film reappeared on YouTube. No idea of its provenance or legality, but it's embedded below. (You'll have to look past the Italian subtitles — those weren't on the version I watched.) Remember, kids, once something is posted online, it exists forever. Even if the version below no longer works, this film is out there somewhere.]
Men of Crisis: The Harvey Wallinger Story
is a mock documentary that, to some extent, seems to have provided Allen with the template he used for
Zelig
. (The film's long title is meant to suggest that "The Harvey Wallinger Story" is a single episode in the putative documentary series "Men of Crisis.") Allen plays Wallinger, and his two most important 1970s leading ladies, Diane Keaton and Louise Lasser, appear in the film (as does a pre-"Diff'rent Strokes" Conrad Bain!).
The film is a mini-biography of Harvey Wallinger, a high-level aide to then-president Richard M. Nixon (played by celebrity lookalike Richard M. Dixon). As one might expect from an early-'70s Woody Allen film, he proves to be sexually neurotic, full of ludicrous advice and generally incompetent. The satiric gesture is that Nixon was only as good as his spin doctors, who were themselves a bunch of idiots. The
Times
article, among other sources, speculates that the film's potential to offend federal agencies that fund PBS caused it to be pulled before airing.
I encourage readers to seek out this curiosity, as it's terrifically funny, in the manner of Allen's other 1970s comedies. And it evokes
Zelig
in its insertion of a fictional character into actual historical circumstances for the purpose of making satirical claims about that era (which was, in this case, the present day). It's also Allen's most overtly political film, and demonstrates that he was quite adept at topical comedy.
Men of Crisis
is equal parts astute political commentary and pure goofiness. The former is embodied by the exquisite use of news footage of Nixon and then-vice president Spiro Agnew looking especially incompetent; the latter by such moments as the one in which a nun grins lasciviously and refers to Wallinger as "freaky." The film made me long for the witty, silly Allen of his early filmmaking career.
Still, the dormant Woody Allen fan in me is now astir. For that fan to fully wake up, though, I think I'll need to see the other Allen obscurity that continues to elude me: the 1979 documentary
My Favorite Comedian.
Allen made it in tribute to Bob Hope, who is also one of
my
favorite comedians. If you know how I can finally see this movie, please let me know. I promise not to tell YouTube's lawyers.