This week in movies you missed:
Frodo Baggins — er, excuse me, Elijah Wood — plays a psycho killer in a remake of a grindhouse flick that made Gene Siskel run for the exit back in 1980.
The new
Maniac
bears the distinction of having been
banned in New Zealan
d
, sort-of hobbit homeland, for its depiction of brutal killings from the killer's point of view.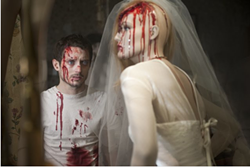 What You Missed
Frank (Wood) is an Angeleno who earns his living restoring vintage mannequins. It sounds like the sort of occupation that would earn him a lot of hipster points in LA, combined with his generally emo demeanor and soulful blue eyes, but here's the thing: Frank isn't good at dating. He's better at stalking women on the street, ambushing them, murdering them, scalping them and decorating his beloved mannequins with the trophies.
The back room of his mannequin shop is a house of horrors where he sits amid his hideous creations (who appear as real women through his eyes), exhorting them not to be jealous, since he loves them all the same. Oh, and he talks to himself and his absent mommy a fair bit.
Anna (Nora Arnezeder), a young French photographer, stumbles on Frank's retro shop and thinks it's the coolest thing ever. She wants to feature his mannequins in her gallery show and make some sort of statement about objectification. Frank really likes her, but can he keep his madness at bay? I think you already know the answer.
Why You Missed It
A product of the French extreme horror movement, this
Maniac
was directed by Franck Khalfoun (
P2
) and produced and cowritten by Alexander Aja (
High Tension
,
The Hills Have Eyes
remake). The
1980 original
was directed by William Lustig and set in NYC, and it reportedly inspired the Michael Sembello song of the same name.
Maniac
played 12 U.S. theaters. Now on Netflix and Amazon Instant, etc.
Should You Keep Missing It?
My 20-point, highly scientific scale for the assessment of indie films:
1-4 points: Does it look pretty?
3/4. Leaving aside the gore issue, yes. The whole film has a glossy, saturated, photo-spread look. POV cam doesn't mean shaky cam here, and the dreamlike texture is well suited to Frank's disturbed (to put it mildly) perspective.
1-4 points: Does anything happen?
3/4. For sure, but this is a slasher flick, so it's the same thing happening again and again with minor and often stomach-churning variation.
1-4 points: Does what happens make sense?
2/4. By the logic of sexual pathology that was ripped off wholesale from
Psycho
, yes. By the logic of the real world, not so much. This is not a restrained study of madness like the far superior
Dahmer
.
A technical aspect that demands suspension of disbelief: So that we can see Frank occasionally, Khalfoun fills the movie with mirrors. Occasionally the camera "cheats" and swoops out from Frank. This might have been a thought-provoking device — raising the question "How far can we go in identifying with a killer?" — if it had been used more consistently, or if the movie had explored that theme in any other way. (What if, for instance, Anna had been a photographer who created grisly crime tableaux? She wouldn't be the first artist to be fascinated by violence.)
1-4 points: Do the characters seem like real people? Failing that, do they look pretty?
1/4. Pretty, yes. Real, no.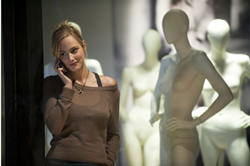 Wood's performance is fine, but a little hammy. That could be forgiven if Frank were as original a creation as, say, Patrick Bateman in
American Psycho.
But he's really just Norman Bates with mannequins.
With the exception of Arnezeder, all the other actors play their roles as broad caricatures. The movie depicts Frank's victims as garish puppets: the club girl, the internet dater out for a hookup (Megan Duffy), the rich-bitch art agent (Jan Broberg). We're invited to feel disgust rather than empathy for them, and hence feel only queasy when they die in horrendous ways.
Objectifying the victims is standard practice for a slasher film, but this callousness keeps
Maniac
from attaining the artier status to which it seems vaguely to aspire. Also, it's just nasty.
1-4 points: Does the movie give us a reason to care about anything happening on screen?
2/4. Visually, perhaps. Narratively, nope. It's far more interesting as an ornate bauble in the Museum of Horror Movie History — a loving homage to a cheap-and-dirty film, and a rebuke to all the bloodless PG-13 horror cinema of late — than as a story.
Verdict:
11/20. Hardcore horror fans with serious gore tolerance: Here's a film that should at least interest you.
I
was grossed out by
Maniac
, and I used to have a job that involved looking at graphic surgical photos.
Everyone else,
steer clear.
In Theaters This Week
Dwayne Johnson is super-strong in
Hercules
. Scarlett Johansson takes a drug or something and becomes super-strong in Luc Besson's
Lucy
. Michael Douglas is strongly annoying in Rob Reiner's comedy
And So It Goes
.
Zach Braff presents his little Kickstarter project,
Wish I Was Here
, at the Roxy. Roman Polanski adapted
Venus in Fur
for the screen, at the Savoy.
This Week in Your Living Room
Heaven Is for Real, Sabotage, Transcendence, Tyler Perry's The Single Moms Club.