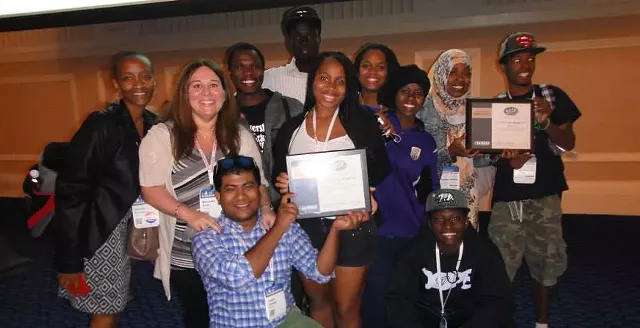 Courtesy of Diversity Rocks
Diversity Rocks members display their ECCO awards.

Diversity Rocks
, a multicultural youth group based in Burlington, recently picked up two awards for its video "I Am the World." The awards — a first-place prize in the "Media Outreach" category and a third-place prize for the "Audience" category — were granted on July 17 by the Maryland-based
Excellence in Community Communications and Outreach
(ECCO) program, a project of the federal government's
Substance Abuse and Mental Health Services Administration
.
The three-minute video, viewable below, features young Vermonters from a variety of racial and ethnic backgrounds celebrating the attributes that both unite and differentiate them. The video is sincere and moving; it also unexpectedly and delightfully recalls Bob Dylan's legendary proto-music video for his song "Subterranean Homesick Blues" — you know, the one where he displays all those placards to the camera.
It's not the first prize the group has earned. Last fall, in a story on Burlington-based photographer and videographer Jean Luc Dushime,
Seven Days
reported on the award that "I Am the World" received from the International Day of Peace organization.
Several members of the organization attended the ECCO awards ceremony at Georgetown University, for which voting was tallied online.
The video was a collaborative project, stresses Jeetan Khadka, an organizing member of Diversity Rocks. In an email, Khadka writes of the video, "Our mission is to provide safe space for youth, to create cultural awareness and to decrease misconceptions and stereotypes. 'I Am the World' is the core of our mission, vision and goal."