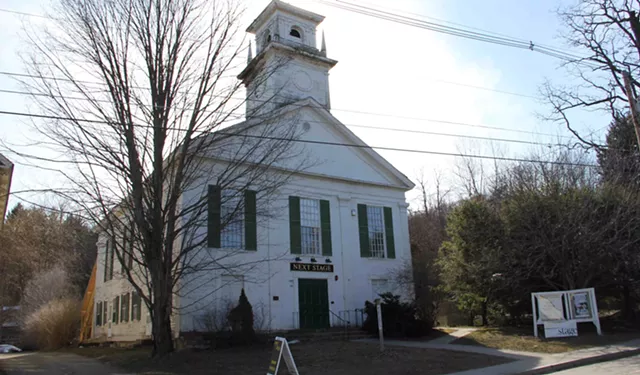 Courtesy of Maria Basescu
Next Stage Arts in Putney
For the past several years,
Next Stage Arts
in Putney has worked to transform an 1841 church owned by the Putney Historical Society into a state-of-the-art, 180-seat performance space. The nonprofit tapped state, regional and national funding sources and squirreled away about $300,000 toward an $860,000 capital campaign goal for renovations and equipment.
Then, in late June, Next Stage won a $370,000 mega grant from
ArtPlace America
, a national organization that supports community art projects and creative spaces to the tune of $14.7 million a year, according to its website. That brings Next Stage to less than $200,000 from its goal.
Executive director Maria Basescu called the award "a huge validation." Only 55 applicants received funding in a highly competitive field of 1,270 candidates, Next Stage's grant was one of the biggest awarded. In fact, the organization received $10,000 more than its grant requested, Basescu says. The original grant application had asked for $360,000. But ArtPlace, which tries to foster collaboration between the arts organizations it funds, threw in extra cash that Next Stage can use to visit programs, attend conferences or other resources.
Needless to say, that is "not a standard thing," in Basescu's words. The ED admits that Next Stage has had an uncommon amount of success in its first few years. "The traction and support we've had so far with audiences and funders is very unusual," she says.
About $320,000 of the ArtPlace grant will go toward renovations; $40,000 will be used to amp up Next Stage's educational programming and outreach.
The remaining $200,000 needed will be raised through additional grant writing; Basescu believes a significant amount can be raised through donations. She notes that Next Stage regularly draws audiences from within a 50-mile radius, plus a steady trickle from New Hampshire and Massachusetts. "Increasingly, we're seeking to be a destination," she says.
Necessary renovations include installing an elevator to make the building handicap-accessible, the original tin ceiling and a marquee, as well as repairing the old church steeple. Those won't be complete until 2016, but the space is very much in use in the meantime.
Next Stage's resident theater company, Apron Theater, performs
August: Osage County
this weekend. Nationally acclaimed blues and folk music artists, such as Rory Block and Jonathan Edwards, have played there. And Next Stage frequently brings in the filmmakers and directors for movies screened there. (It also often partners with downtown restaurants for "dinner and a movie" nights in conjunction with film screenings.)
Basescu attributes Next Stage's success to the diverse community members who have volunteered their hours, and to enthusiastic audiences. "We have an incredible board of not just talented, energetic and creative but also very well-connected people," she says. "And people with long, long roots in this area who know and are part of the community."
She and other Putney community members founded the Next Stage Arts Project in 2011, after a rough period in town that included two major fires, businesses closing due to the recession and damage from Tropical Storm Irene.
In 2010, a talent show fundraiser to rebuild the Putney General Store — a casualty of one of those fires — was held down the street at the former United Church of Putney, which had been unused since the congregation disbanded five years prior.
Next Stage's success, Basescu believes, can be chalked up to "the networks and connections of people involved in the project," but also to the Putney community's desire to see its downtown thrive again.
"People were engaged and passionate," Basescu says. "It was a community engaged in recent losses. People were very far from taking anything for granted, and they wanted to come together."