Courtesy of SEABA
Logo by Chris Webster
The
South End Arts and Business Association
has unveiled its new, jazzed-up branding — complete with a new logo depicting a funky industrial building and a neon-green speech bubble that says "art."
Adam Brooks, SEABA's executive director, calls the new logo "a great visual that more accurately represents what we do in the South End."
SEABA's mission is to "enhance the economic vitality and eclectic mix of Burlington's arts and business community in the area south of Main Street." Its previous logo was designed in 2002 and featured alternating blue and green paint strokes.
"The logo ... has been part of what we do for the last 12 years, but over those 12 years things have changed, things have grown," says Brooks. "Our old logo didn't really identify us with the South End in any way, or with what we do to fuse art and industry."
The new graphic, created by board member Chris Webster of
Select Design
, was based on a survey of key words that SEABA members felt represented the nonprofit's focus and influence (see below). Brooks also credits Amey Radcliffe of
Gotham City Graphics
and Dennis Healy of
Burton Snowboards
for spearheading the rebranding process.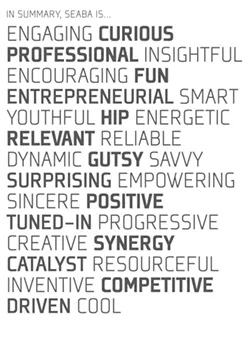 SEABA presents an art and social event series called
Art Under the Influence
and currently curates exhibits of work by local artists in nine South End spaces. Its annual capstone event is the
South End Arts Hop
, which this year runs September 5-7.