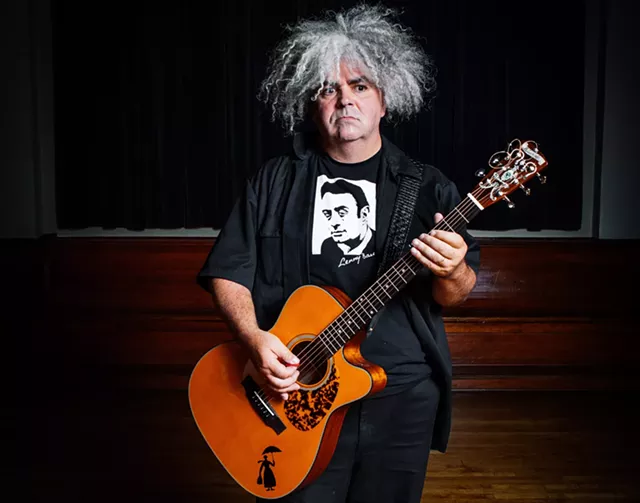 Todd Cooper
Even armed with just an unplugged acoustic guitar, King Buzzo can still melt your brain.
Few bands rock, or have ever rocked, quite so hard as the mighty Melvins, the Washington-based godfathers of latter-day metal, grunge, punk, drone and every other loud-ass musical genre you can name. Melvins' particular brand of intelligent and noisy rock has been blasting eardrums and inspiring young musicians for 30 years, and their live shows are legendary. I saw them once, back in about 2006 at New Haven's venerable Toad's Place, and barely lived to tell the tale. Mercy me, they're a powerful force onstage.
Melvins main man Buzz Osborne (best known to fans as King Buzzo) now shows that, with his new solo album, some musical boundaries can still be broken.
This Machine Kills Artists
, the collaboration-prone Buzzo's first truly solo record, is, somewhat incredibly, an all-acoustic venture. It's just Buzzo's acidic-as-ever voice and the darkest, most distorted acoustic guitar you've ever heard.
The music isn't just "Melvins unplugged"; it's a whole new thing, with equally complex melodies mapped atop a whole different musical landscape. The noise quotient is lower, but the results are no less intense. Dip your eardrums into the album's leadoff song, "Dark Brown Teeth," via the Soundcloud link, below.
In advance of his July 6 show at Higher Ground, King Buzzo spoke with
Seven Days
from his tour stop in beautiful downtown Fargo, N.D., about his new record, why he's not a gearhead, and the economist/philosopher Thomas Sowell.
Seven Days: So you're in Fargo, huh? Gonna play the FargoDome?

Buzz Osborne: Oh, sure. There's gonna be 20,000 people there tonight. As much as I wanted to play in a place designed for sporting events, I couldn't make that happen.
SD: It's an obvious question, but I have to ask: Why do a solo acoustic album?

BO: It was just time for me to do something like that. No particular reaons other than that I've never done one. Melvins albums have always sort of been solo albums, anyway. I know that some critics have said that [
This Machine Kills Artists
] sounds too much like a Melvins record. What the fuck do they think it's gonna sound like? And the problem with all those Johnny Cash albums is that they sound too much like Johnny Cash … You didn't paint the right kind of painting for me, Mr. Francis Bacon, fuck you.
SD: I've been listening to the abum, and it does sound somewhat like Melvins, but it also sounds pretty different, too.

BO: You know why? Because you used your ears. That's a good place to start when listening to music.
Courtesy of Mackie Osborne
The mighty Melvins
SD: Would it be correct to say that your playing seems a little more, I don't know, intricate on this album?

BO: Intricate? I would say no, not more intricate. I've always played like that. That may get washed over in the Melvins. If anything, it's less complicated. It's only an acoustic guitar. No drums, no amplification. It's as stripped down as I can make it. Guitar and vocals — that's it. No electronic sleight of hand making it sound one way or another, though on the vocals we fucked around a little with some electronics to make weird sounds, but that was more like a "flavor." I definitely don't do that live.
I think people now can hear what I've been doing a little better, maybe, but other than that, my playing is the way I play. I play like a bulldozer. That's basically how it works. I'm not John Denver or Jose Feliciano. I'm a fucking bulldozer with any guitar in my hand.
SD: The album's title makes reference to Woody Guthrie's guitar, which famously proclaimed "This Machine Kills Fascists." Why is that a touchstone for you?

BO:Well, what do you imagine Woody Guthrie meant by that? I don't know if anyone ever questioned him about that. What is the textbook definition of "fascist"? Of "machine"? Does he mean the guitar itself? Or a machine made up of him and the guitar? Why is he against fascism? I doubt anyone even ever asked him. The fact that [the album's title] evokes anything from people is a good enough answer. Plus, it's funny, and funny goes a long way.
SD: Tell me about the Buck Owens model guitar that you play on the record.

BO: I inherited that when I got married, 21 years ago. It was one of eight guitars specifically made by the guy who made Buck Owens' guitars. It's not the production model, weirdly enough. It's the one that he actually played. It's not going to go with me on the road, since it's basically irreplaceable, and it plays great.
[For the live shows], I have two good guitars — Blue Notes, or something. A Chinese model guitar. I'm not a big gearhead. I need a guitar that's going to go out on the road and take a beating. I honestly don't think that sort of thing makes a lot of difference. It's always funny to me when guys play a beat-up guitar. That really doesn't matter. You know they actually sell Fender guitars that are pre-beaten-up? Can you believe that? You don't even get to enjoy beating it up. A pre-beaten-up guitar. That's fucking weird.
SD: What were the particular challenges in making the new record?

BO: What I had to do was make this work without the benefit of an entire band. That was the hard part. I wanted to do it without any other instrumentation — just vocals and guitar. That's not an easy thing to do, at least for me. Maybe Joan Baez can do it. In the field that I inhabit, it's not common, so it was a real jump for me to make that work.
SD: What's the status of Melvins right now?

BO: At the same time [I was recording
This Machine Kills Artists
], I was working on a brand-new Melvins album, which comes out in October. Melvins is basically my own band; I've never really felt the need to do a solo album because I basically get to do whatever I want. It's an "as well" thing: Melvins, and this as well. Now I gotta get on the road and make people believe. Not an easy thing to do. On paper, it doesn't seem like a good idea … There's no reason for me to think that people should believe me, but I'm up to the challenge.
SD: What are you listening to these days?

BO: Name it. [My tour companions and I are] all over the map in what we listen to. I'm not into the sound of mp3s, but I am into the idea that I can take a massive amount of music with me anywhere. Same thing with the Kindle — I love that I can take 300 of my favorite books with me at any given moment, on a device that saves the pages for me. But would I replace my CD collection or my books at home? Absolutely not.
We make a wide variety of playlists for the iPod. Yesterday we listened to Tom Waits, the Cherubs, the Butthole Surfers, Joan Baez, Bob Dylan, Thin Lizzy, Creedence, Buck Owens, Junior Brown. Lots of soundtracks, too:
Lawrence of Arabia
,
The Man Who Would Be King
,
Ravenous
,
Blue Velvet
, the
Midnight Cowboy
soundtrack.
SD: OK, so what are you reading on your Kindle?

BO:
The Big Hunger
by John Fante. Also the
Thomas Sowell Reader
. He's the greatest philosopher of our time, without question. The people who know, know, but no one seems to know who he is. I think he's absolutely wonderful and a national treasure; one of the greatest living human beings.
SD: You've been with Ipecac Records for a while now. Were they cool with your new venture?

BO: They let me do whatever I want … I'm probably the most realistic musician you will ever speak to … No one's underwriting anything I'm doing. I've been my own man, paying my own bills and buying my own drinks for a long time. It's the American dream incarnate. You expect nothing and take nothing for granted.
Jessi Rose
The flowery Melvins
King Buzzo plays an acoustic set on Sunday, July 6, at 8 p.m., at Higher Ground Showcase Lounge in South Burlington. Emma Ruth Rundle opens. $12/$15.
highergroundmusic.com