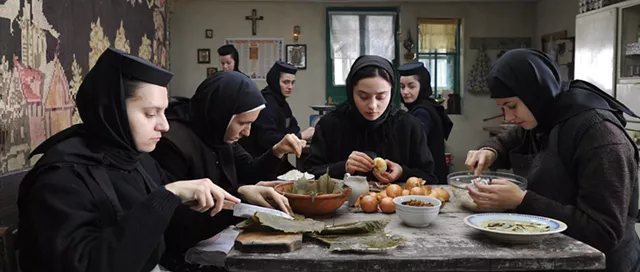 Courtesy Mobra films, Why Not Productions, Les films du Fleuve, France 3 Cinéma and Mandragora Movies
Valeriu Andriuta, Cosmina Stratan, Teo Corban and Calin Chirila in Beyond the Hills
One of the biggest surprises in recent international cinema has been the critical and commercial success of the
Romanian New Wave
. The cinematic history of the small, mountainous country is not particularly rich, largely due to the fact that so much of its modern culture had been squelched by the 25-year totalitarian regime of
Nicolae Ceausescu
. Indeed, many of the films of the Romanian New Wave refer, directly or indirectly, to the effects of or fallout from Ceausescu's rule.
Beyond the Hills
, the most recent film from acclaimed director
Cristian Mungiu
, is no exception. Though it makes no explicit reference to Ceausescu, its themes concern the effects of the loss of free will. Set in an isolated Romanian convent,
Beyond the Hills
is a starkly beautiful film about the consequences of religious extremism and isolation. The film won the Best Screenplay award at the 2012 Cannes Film Festival; that same year, its two leads, Cosmina Stratan and Cristina Flutur, shared that festival's Best Actress Prize.
On Thursday, June 26, at Burlington's Main Street Landing, the
Burlington Film Society and Vermont International Film Foundation
will present this most recent and highly acclaimed entry into this surprising juggernaut of international festival cinema. The screening is significant not only because the film has not screened in the area before, nor because of the film's awards, but because a Vermont resident played a key role in its creation.
Middlebury professor of Film and Media Culture
Ioana Uricaru
, a film scholar, director and screenwriter, served as script consultant on
Beyond the Hills
; she was present for much of the film's shoot. Uricaru, in fact, is a key figure in the Romanian New Wave, having edited, produced, written and directed a number of the films that make up that movement's canon. Though unable to attend this week's screening, Uricaru will participate in a live Q&A, via Skype, immediately following the film.
Director Mungiu has become something of a festival darling in recent years: His 2007 breakthrough film
4 Months, 3 Weeks and 2 Days
nabbed Cannes'
Palme d'Or
as well as several other prizes;
Beyond the Hills
is just his second film since then. His films, and those of the Romanian New Wave in general, are characterized by their austere visual style as well as a certain morbid sense of humor.
Beyond the Hills
is no exception, and will appeal to lovers of challenging, subtle cinema.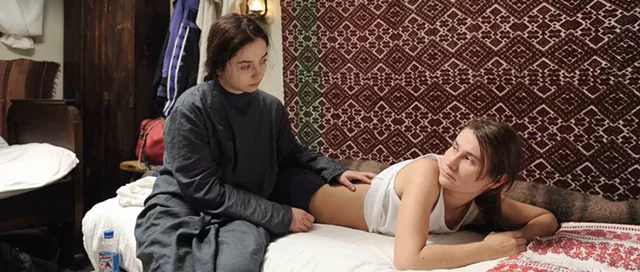 Courtesy Mobra films, Why Not Productions, Les films du Fleuve, France 3 Cinéma and Mandragora Movies (photo by Sebastian Enache)
The two award-winning leads of Beyond the Hills
Beyond the Hills
plays Thursday, June 26, at 7 p.m. at the Film House at Main Street Landing in Burlington. $8, $5 students, free for VTIFF members.
vtiff.org