This week in movies you missed:
Let's take a break in the south of France, where a three-week summer vacation is considered "short." Let's soak up the sun glinting from the waters of a gorgeous lake and — wait, why is everybody on this beach a naked dude? What's that sound coming from the bushes? And what's that happening out there in the water — could it be a murder?
What You Missed
Franck (Pierre Deladonchamps) is a young vegetable seller who frequents a beach known as a cruising spot. He has his eye on Michel (Christophe Paou), a handsome bruiser with facial hair, but Michel's possessive boyfriend makes sure he keeps his distance.
So, instead, Franck finds himself spending his time by the lake with Henri (Patrick d'Assumçao), a pudgy, middle-aged logger who just ended a relationship with a woman. Henri declares himself interested only in friendship, saying he's weary of letting sexual desire consume his life.
One day, as Franck watches from the woods, Michel drowns his lover in the lake. There are no other witnesses. He doesn't go to the police.
And the next day, when Michel approaches him with an invitation, Franck says yes.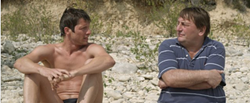 Strand Releasing
Franck and Henri

Why You Missed It
Stranger by the Lake (L'Inconnu du lac)
, the latest from writer-director Alain Guiraudie, was shown in Cannes' Un Certain Regard section in 2013 and played at 16 U.S. theaters earlier this year. Now on Netflix and Amazon Instant.
Should You Keep Missing It?
My 20-point, highly scientific scale for the assessment of indie films:
1-4 points: Does it look pretty?
4/4. When your entire movie takes place in a single location (the French scholars who insisted on "unity of place" in drama would be so pleased), it better be an amazing location. And such is the Lac de Sainte-Croix in Verdon Gorge, in the province of Alpes de Haute-Provence.
Guiraudie's camera brings it alive, from the glittering expanse of crystal-clear water to the dark thickets above, which can morph from a lovers' bower into an ominous fairy-tale forest.
He claims to have used only natural light and sound
, and the resulting experience is immersive.
Oh, and did I mention that the murder and its aftermath are shot in one spectacular, marathon take, so that we seem to be seeing it directly from Franck's eyes and sharing in his complicity?
1-4 points: Does anything happen?
3/4. There's a lot of slow-paced build-up and downtime in
Stranger by the Lake
, but by the end, yup, much has happened.
Be aware: Some of what happens is explicit, unsimulated sex. (
The actors used body doubles.
) I thought the scenes were thoughtfully done and not gratuitous, but then, I don't think graphic sex on film is inherently
porno
graphic. Some may disagree.
1-4 points: Does what happens make sense?
2/4. Let's just say there's serious room for debate here. Either you "buy" Franck's behavior — falling in love with a man he knows is a killer — or you don't.
I did, more or less. Why?
Twilight. Fatal Attraction
. Every noir movie with a femme fatale. Joyce Carol Oates'
"Where Are You Going, Where Have You Been?"
and its film adaptation, the little-seen
Smooth Talk
with Laura Dern. All these stories, along with life experience, remind us that dangerous people can be attractive. Sometimes they're attractive
because
they're dangerous. Michel, an alpha male who seeks sex without love or commitment, fits the bill.
Strand Releasing
Franck's dangerous idyll with Michel
Maybe it still pushes our credulity that Franck would run into the arms of someone whom
he saw
murder his last lover for being inconvenient. But, one might ask, how do imprisoned serial killers find pen-pal girlfriends? The film doesn't tell us
why
the easy-going Franck embraces danger — we know little about his life away from the lake — but at least he's consistent, at one point explaining to a more uptight lover that he sees no need to use condoms in anonymous encounters.
1-4 points: Do the characters seem like real people? Failing that, do they look pretty?
3/4. For me,
Stranger in the Lake
would have fallen apart without its one unpretty main character — Henri. He's both the most enigmatic and the most sympathetic person on screen. He claims not be gay, yet acknowledges that he's had plenty of sexual encounters with men, and specifically seeks out a cruising spot as a place to find companionship. He also claims to be voluntarily celibate, yet he seems attracted to Franck and is clearly unhappy to see him with Michel.
Finally, Henri voices what could be the film's theme when he asks, rather plaintively, why it's not possible to sleep beside another person without screwing that person first. More than sex, more even than love,
Stranger by the Lake
seems to be about loneliness and the lengths people will go to to avoid it.
1-4 points: Does the movie give us a reason to care about anything happening on screen?
3/4. A certain event near the end strained my suspension of disbelief. But overall, I think Guiraudie made this film with more on his mind than showing off his mastery of light and shade (though he also does that). To some it may seem cold and distanced, but there's a heart beating there.
Verdict:
15/20. I wouldn't go so far as calling
Stranger by the Lake
"Hitchcock with gay sex," but the comparison isn't totally out of the ballpark. It's meticulously crafted and creepy.
In Theaters This Week

Clint Eastwood adapted the Four Seasons musical
Jersey Boys
for the screen. The cast of surprise hit comedy
Think Like a Man
returns to think like a man and act like a goofus some more in
Think Like a Man Too
.
This Week in Your Living Room
Authors Anonymous, Ernest & Celestine, The Grand Budapest Hotel
, "House of Cards," season 2,
Joe, The Lego Movie, Walk of Shame.