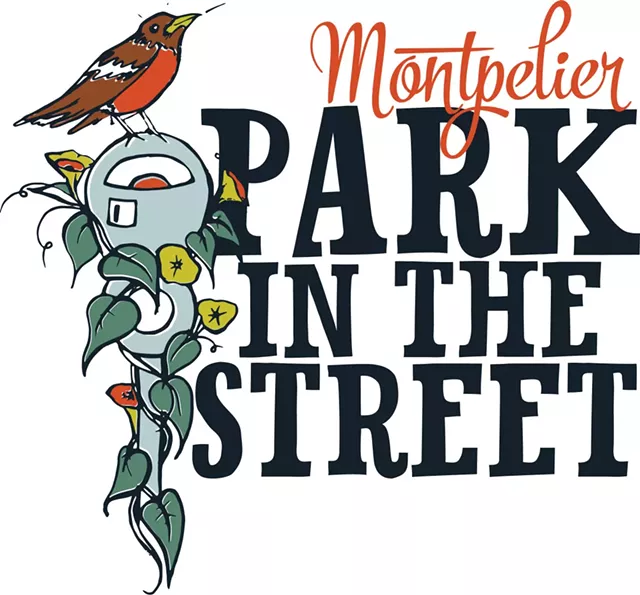 The logo of Montpelier's Park in the Street Day by Jess Graham
A new event in Montpelier offers a twist on "parking in the street." This Saturday, June 21, State Street will close to make way for an innovative outdoor festival that's designed to showcase wares from local artists, businesses and restaurants. Participants will transform those downtown parking spots into "micro-parks," or artful gathering spaces for customers and passersby.
"It's a concept that fuses a traditional market with something a lot of people have heard of called
PARK(ing) Day
, where you feed the meter and you can turn the space into anything you want," says Meg Schultz, the event's coordinator, who also organizes the annual
Waterbury Arts Fest
.
While planning Montpelier's
Park in the Street
, though, Schultz took the PARK(ing) Day concept and ran with it, adding new flourishes and tweaking the idea to fit the event's purposes. One big difference: Park in the Street is specifically meant to promote downtown businesses — it's funded in part through a Downtown Improvement District grant — whereas PARK(ing) Day doesn't allow shops to participate.
And what's a micro-park, you may wonder? That depends on who makes it. Those parking spaces can be just about anything, Schultz says, as long as they encourages people to gather in and enjoy downtown Montpelier.
Here's a taste of what will be happening on State Street from 11 a.m. to 10 p.m. on Saturday:
- Live music the entire day, from local high school bands to headliners Amy Black and Brett Hughes
- Expanded outdoor seating at Positive Pie, Julio's, Kismet and other restaurants
- Local artists and vendors peddling their wares, including Ver Mont Perfumery, All That Glitters and more
- Fun hang-out spots set up by local organizations, including a "Red Tent" from the Montpelier chapter of the Circle of Women International
- Awards for best parking space in a variety of categories such as Most Relaxing and Most Educational
- A free raffle that any attendee can enter
And if you're worried about where to put your car, don't — Park in the Street's got you covered. The event partnered with area car dealerships 802 Toyota, Twin City Subaru and 802 Honda, which will provide free cab service to and from the fest in brand-new vehicles. Pick-up and drop-off points will be posted to the event's
website
, Schultz says.