This week in movies you missed:
Sometimes in the summer, you just wanna watch something languid, gorgeous and trippy. Something with a weird title. Who cares if you "understand" it? Go with the flow!
So I checked out the 2010 Cannes Palme d'Or winner, a newish arrival on Netflix Instant. This art film from director Apichatpong Weerasethakul (
Syndromes and a Century
), shot in his native northern Thailand, has provoked lots of online commentary. Some wags reportedly refer to it as "Uncle Bong Hit."
What You Missed
Boonmee (Thanapat Saisaymar) is slowly dying of kidney failure. He invites his city-dwelling sister-in-law, Jen (Jenjira Pongpas), to his remote farm, where he grows tamarinds and keeps bees, and asks her to take over the place after his death.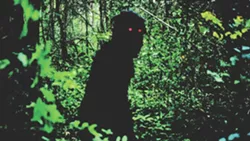 Don't cross a ghost monkey!
So far, so normal. But then, one night while Boonmee and Jen are having dinner, the ghost of Boonmee's wife (Natthakarn Aphaiwonk) shows up. With her comes their son, Boonsong (Geerasak Kulhong), also deceased, who appears covered with hair, Chewbacca-style, with glowing red eyes. He explains in a matter-of-fact manner that he followed a "ghost monkey" into the jungle, mated with her and became one of her kind.
It's a pretty mellow family reunion, all things considered. In the following days, Boonmee continues to contemplate imminent death, which he says makes him feel excited, like the prospect of giving a presentation the next day. He does not recall his past lives or ever discuss doing so.
Unless that's what's happening in the out-of-nowhere sequence with the princess and the catfish sex — well, you'll just have to watch it and decide for yourself.
Why You Missed It
Do I really need to tell you why this film didn't get a wide release in fly-over country? It reached six U.S. theaters and is now available on DVD/Blu-ray and for streaming practically everywhere.
Should You Keep Missing It?
My usual 20-point scoring system breaks down when confronting films as experimental as
Uncle Boonmee
. ("Does what happens make sense?" HAH! Not even close.) We're going to have to do this free-form.
What I Did Not Like:
It's long and slow and not much happens, and I'm a literalist philistine who doesn't appreciate lengthy, static takes and climbs the walls if I don't get plot and character development. However, when a film is trancey enough, my inner philistine nods off, and my inner Buddhist or Wordsworthian or whatever you want to call it takes over and blisses out. That happened here.
However, I should have watched
Uncle Boonmee
on Blu-ray, preferably on a bigger TV than I own, because this is a stunning film that doesn't benefit from the quality of Netflix streaming. Too late for that now.
What I (or my Inner Poet) Did Like

This film illustrates what "catfishing" meant in predigital times — er, possibly.
Nature, nature, everywhere.
The first scene sets the tone. At a crepuscular hour, we watch a tethered ox break free and escape into the jungle, where it meets one of the red-eyed ghost monkeys we will soon come to know. It's a long scene in which almost nothing happens, yet the director builds a hypnotic atmosphere from the steady keening of the woodland insects (an eerie presence throughout the film) and the layering of greens on blues on darker, more mysterious shapes. We recognize this as a real jungle, but also a folkloric one where spirits aren't out of place.
This dreamlike setting dominates the film and Uncle Boonmee's life and death, to the point where some later scenes, set in sterile, modern indoor spaces, feel shockingly discontinuous. (And that, clearly, was a choice on Weerasethakul's part.)
This isn't just "pretty" nature; this is
powerful
nature, a setting that changes how we think about life and death, bringing them closer together, and where one physical entity — a cave — can represent both at once. Think a Thai Buddhist version of Terrence Malick, with one key difference:
Lack of pretension
. Directorial self-consciousness about creating Art can make art films a slog.
Uncle Boonmee
doesn't try to paper over its non sequiturs with dialogue suggesting they mean something really deep. That bizarre catfish sequence? It's just there, and you can interpret it however you wish. (I assumed it referred to a folktale, but found no supporting evidence.)
I liked the casual, naturalistic quality of the dialogue, even when it goes beyond banality into spiritual matters. For instance, Uncle Boonmee speculates that he may have amassed bad karma by killing communists for the government when he was a young man — and by killing so many insects on his farm over the years. When Boonsong shows up in ghost monkey drag, the first question he's asked is "Why did you grow your hair so long?"
There's a deadpan humor to these low-key reactions. We may not know them well, but these feel like real people, with a belief system slightly and intriguingly askew from ours.
Verdict:
Bong hits are not necessary to get on this film's wavelength, though I imagine they wouldn't hurt. Just check your desire for linear narrative at the door. It's not quite like anything else, always a huge plus in my book.
This Week in Theaters
Sequels! If you liked
21 Jump Street
or
How to Train Your Dragon
(I did), you're in luck, because here are their second installments.
Fed Up
with the processed-food industry fueling America's collective obesity? At the Roxy, there's a doc for you.
This Week in Your Living Room
Please do one thing for me, everybody: Never, ever, ever confuse "True Detective" with "True Blood." They're both on HBO and both take place in the deep South, but the resemblance ends there. The former is out on video this week. Watch it to see why Matthew McConaughey
really
got that Oscar.

Also: Jack Ryan: Shadow Recruit, Non-Stop, Adult World, Alan Partridge, Haunt, Omar, Tim's Vermeer, "Cosmos: A Spacetime Odyssey."