Mark Collier / Norwich University
Jennifer Payne interviewing Vermont State Trooper Michelle LeBlanc and Colonel Timothy H. Donovan for the Norwich Voices project
The history of
Norwich University
, the country's oldest private military college, goes back to 1819. In those 195 years, thousands of cadets, instructors and employees have passed through the school's Northfield campus, each of whom surely has stories to tell about his or her time there.
Over the past year, the school has, using grant money from the Chicago-based
Tawani Foundation
, found a way to record, archive and share those stories, which, together, constitute a de facto history of Norwich University. The Norwich Voices Oral History Project commenced in June of last year; now, the college is actively seeking participants for the second year of the three-year program.
Anyone who has a story relating to Norwich University — current and former students and teachers, past and present employees, residents of Northfield — is invited to contribute to the project, which has a goal of recording, transcribing, cataloguing, indexing and archiving 30 stories per year.
To be interviewed for the project, potential subjects must first be nominated (either by themselves or someone else); nominees are then vetted by the project's organizers. Those who are selected will be interviewed for up to one hour, and the finished stories — in audio, digital and printed form — will be made available to researchers.
Some of the stories are recorded as one-on-one interviews, and others take the form of a multiperson dialogue, somewhat similar to the format employed by the "
StoryCorps
" program that is familiar to listeners of National Public Radio. Jennifer Payne, the project's coordinator, says she realized that some stories — such as that of the group of cadets who sought their commandant's advice about their upcoming conscription into the 1991 Gulf War — lent themselves to a multiple-interviewee approach. "I realized that if we got these guys together, it'd probably be pretty interesting," says Payne.
Storytellers retain the copyright of the stories, and determine the extent to which the university may use the material. So far, every one of the 28 interviewees has agreed to allow unrestricted access to their stories.
Though most participants have been generous with their time and their stories, there are some, Payne notes, who have trouble understanding why their own stories would make for interesting contributions to the project. She cites the example of a graduate who did two tours of duty in Vietnam, then settled into the life of a physics professor. But the project, Payne insists, is one that aims to cast as wide a net as possible over all of those who have contributed to the culture and history of the university.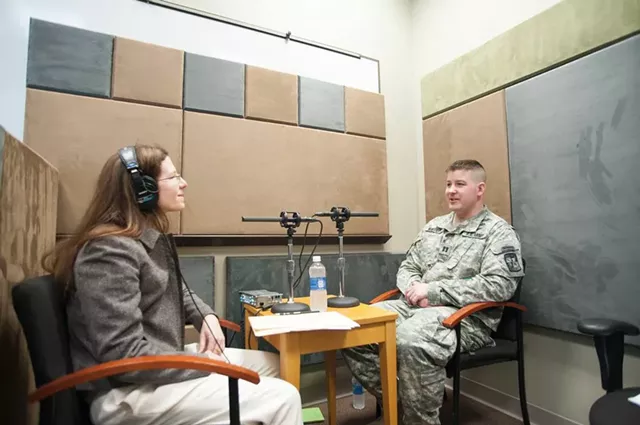 Mark Collier / Norwich University
Norwich Voice Oral History project coordinator Jennifer Payne interviewing Captain Gregory R. Wortman
Sarah Henrich, director of the school's
Sullivan Museum and History Center
, says that one of the goals for the Norwich Voices project is to incorporate the stories it generates into the university's 2019 bicentennial.
The Norwich Voices project is a pilot program of a potentially powerful new technology called
OHMS
: the Oral History Metadata Synchronizer, which was developed at the University of Kentucky. OHMS allows researchers to search for specific
spoken
words or phrases in an audio recording of an interview. One could, for instance, enter the search term "cavalry" and be taken directly to the portion of an audio recording in which a former cadet recounts Norwich's bygone tradition of soldiers training with horses.
And, indeed, one
could
search for — and find — information on that very subject. One of the first interviewees for the project graduated from Norwich in 1934, and shared his stories of cavalry training with his interviewer. In this way does the school's past become, literally, storied.