This week in movies you missed:
This time, for a change, I'm previewing a movie you don't have to miss.
Hank and Asha
will play this Friday, June 6, through Thursday, June 12, at Catamount Arts in St. Johnsbury — a great resource for art-house fare up north.
More info here.
Full disclosure: I heard about
Hank and Asha
from my coworker, staff writer Ethan de Seife, who knows the filmmakers. If you look closely, you'll see him in a restaurant scene!
What You Missed
Asha (Mahira Kakkar) is an Indian studying film in Prague. When she sees a documentary by New York director Hank (Andrew Pastides) at a festival, she has questions — but he doesn't show up for the Q&A, so Asha sends him a video letter. He responds in kind, and we watch their relationship evolve as they continue to correspond in this format over several months.
The two young artists open up about their work (he's a PA for a reality show), their families and past relationships, their hopes for the future. When Asha says she longs to see Paris, Hank sends her a ticket — to meet him there. That's when things get less light-hearted, because Asha hasn't told him everything about herself.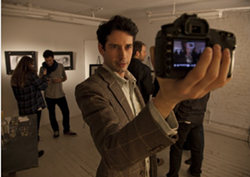 Why You Missed It
See above —
Hank and Asha
is still making the art-house rounds before hitting the small screen. This first feature from director James E. Duff (who cowrote it with Julia Morrison) won the Audience Award at the 2013 Slamdance Film Festival and a slew of other U.S. fest prizes.
Should You Keep Missing It?
My 20-point, highly scientific scale for the assessment of indie films:
1-4 points: Does it look pretty?
4/4. Early in their exchange, Hank suggests they Skype, but Asha rejects the idea. If they video-chatted, "could I show you this?" she asks, swinging her camera around the ornate Prague theater where Hank's film was screened.
By choosing to make this story about filmmakers who are shooting, shaping and editing their daily experience for each other, Duff gives himself a pretext to make the rare fine-looking found-footage film, a lyrical first-person vision of life in two great cities.
Some reviewers have suggested the footage looks too good for the conceit. But, given that filmmakers tend to be control freaks, I can imagine them crafting artsy video letters like these — and rejecting a sloppier, more direct mode of digital communication.
1-4 points: Does anything happen?

2/4. The film had enough tension to keep me interested in the central "Will they meet, or won't they?" question most of the way through. Toward the end, I did start to weary of the music-video-style segments that fill the cracks between story developments.
1-4 points: Does what happens make sense?
4/4. As bittersweet indie romances go, I found this one refreshingly believable. Both Hank and Asha have elements of themselves they hide and reveal as they court each other via video. When things get difficult, more roughness and ugliness emerge. That gives the film a depth that I didn't find, for instance, in
this equally pretty one
.
1-4 points: Do the characters seem like real people? Failing that, do they look pretty?
3/4. When a film has just two real characters talking to a camera, the performers have to be likable and natural, and Kakkar and Pastides are. (For the record, yes, they're also both conventionally attractive.) He occasionally verges on gratingly self-conscious, in a Brooklyn hipster way — but hey, that fits the character. It's easier to feel close to Asha because Kakkar has a charming, disarming candor.
Could they have been more interesting? Yes; this script doesn't dig as deep as Richard Linklater's
Before
trilogy, which it resembles in some ways. A lot of territory covering the cultural differences between these two is scraped, not mined. But they're entertaining company.
1-4 points: Does the movie give us a reason to care about anything happening on screen?
3/4.
Hank and Asha
gave me shades of
Her
, because it's about two people who walk through crowded public spaces essentially talking to inanimate objects. Yes, they're connecting and communicating — but not with anyone in their physical space. (In one scene, Hank places the camera across a restaurant table from him so he can "have dinner" with Asha. They maintain the semblance of speaking to each other directly and immediately, but we know it's a fiction.)
I recently watched the Joss Whedon-scripted indie
In Your Eyes
, and while it's not Whedon at his best (too Lifetime for me), it hinges on a device of psychic communication that puts its characters, strangers to each other, in a similar situation to Hank and Asha. This is an interesting mini-trend, seemingly reflective of a reality where we walk down the street and see more and more people lost in their private communication bubbles, laughing and talking to phantoms who could be anywhere.
If nothing else, this gives a measure of vitality and relevance to the tired old indie-romance paradigm. But if they make a movie about a web-camming
Manic Pixie Dream Girl
and her wacky homemade apps, I'm outta there.
Verdict:
Worth checking out on a bigger screen.
This Week in Theaters
Tom Cruise does a sci-fi
Groundhog Day
scenario in
Edge of Tomorrow
. Kids with cancer fall in love in
The Fault in Our Stars
. (I read the book, which was not anywhere near as treacly as that summary makes it sound, but yeah, tears were shed.)
At the Roxy, James Gray's acclaimed period piece
The Immigrant
, with Marion Cotillard and Joaquin Phoenix. At the Savoy, another arty period drama:
Ida
, set in Communist Poland.
This Week in Your Living Room
In the Blood, Lone Survivor, The Motel Life, RoboCop, Small Time, Son of God
.