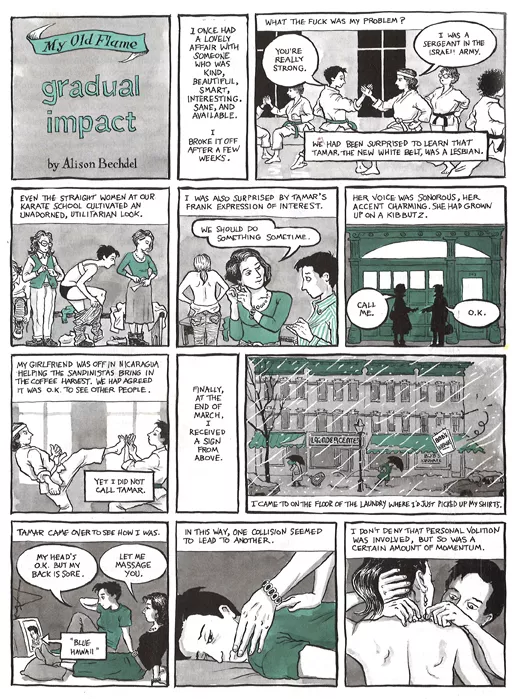 Vermont-based cartoonist
Alison Bechdel
created the long-running comic strip "Dykes to Watch Out For," which was carried by
Seven Days
and other alt weeklies across the country. Since she left the strip behind, Bechdel has found herself in a larger national spotlight. Her groundbreaking 2007 graphic memoir
Fun Home: A Family Tragicomic
sat on the
New York Times
best-seller list for weeks, won or was nominated for numerous awards and met with near-universal raves. The book landed on many a year-end best-of list.
Then it was made into a musical, which closed at the Public Theater in New York last fall after several extensions. That version, too, won popular and critical acclaim — including being named a finalist for a Pulitzer Prize in drama.
This week, Bechdel has a two-page first-person spread in the
New Yorker
— call it a graphic mini memoir? Titled "My Old Flame: Gradual Impact," it's a lesbian love story gone wrong, and a comic gone right.
Look for more work from Bechdel in
Seven Days
' upcoming Cartoon Issue on July 2.