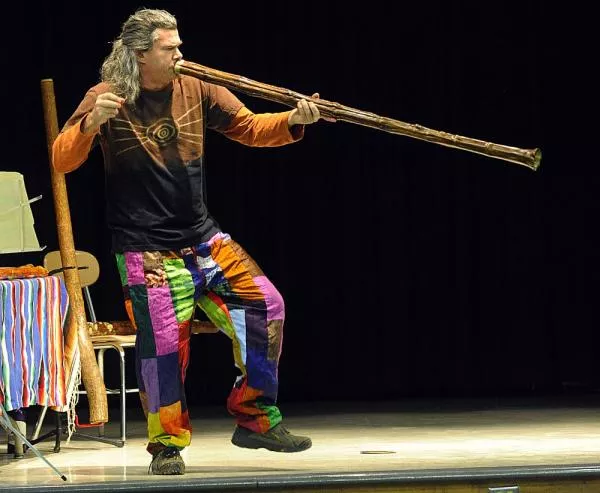 Courtesy of Pitz Quattrone
Pitz on the didgeridoo

Seven Days
this week reported on
the efforts of local musician
Pitz Quattrone
to instruct others on how to use, of all things, the
didigeridoo to treat sleep apnea
. Read
that story
for more details, but the gist of it is that there's some
solid science behind the idea
. Playing the didgeridoo is an effective way to tone the muscles of the upper respiratory tract, which are precisely the ones that, if untoned, collapse and cause the breathing difficulties characteristic of sleep apnea.
As if that weren't interesting enough, Quattrone has received the honor of having his song "Electric Tan" featured on the radio by one of America's oddest and most beloved musical tastemakers. Yes, the venerable
Dr. Demento himself
— keeper of the flame of musical weirdness for more than 40 years — will play the song on his radio show on Saturday, June 7.
From drdemento.com
Dr. Demento
"Electric Tan," a bouncy number about the stupidity of indoor tanning beds, finds Quattrone boogieing down on the didgeridoo and, as on many of his other songs, singing lead vocals, as well.
"Everybody get your cancer / Get it while you can," Quattrone sings in the chorus, his sarcasm lending the groovy song a welcome edge.
You can hear some of Quattrone's other songs
on his website
.
Dr. Demento
streams his shows online
, so anyone with an internet connection can tune in. Try finding another site on which you can listen to funky, didgeridoo-centric songs about skin cancer.
In the few days before Dr. Demento airs "Electric Tan," all you lovers of what I'm calling "didge funk" can content yourselves with the official video for "Movin'," the title track of Quattrone's recent EP.