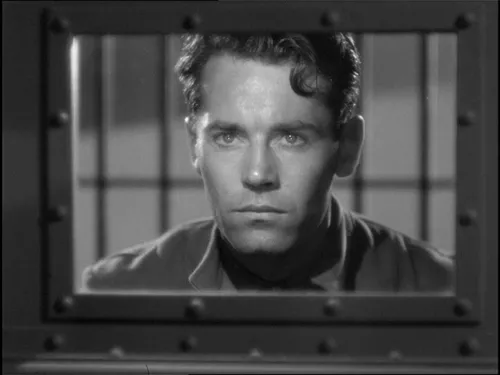 United Artists / Image Entertainment / Castle Hill Productions
You Only Live Once: Eddie Taylor (Henry Fonda) is not very pleased about being wrongly incarcerated. Fonda played another unjustly accused man 19 years later in Alfred Hitchcock's The Wrong Man, one of his best performances.
Though its title suggests otherwise, Fritz Lang's 1937 film
You Only Live Once
is immortal. Not just the immortality achieved by immeasurably great works of art — a descriptor that suits
You Only Live Once
— but immortal in the true sense of the word.
Motion pictures, even the old ones, lead pretty interesting lives these days. When this film was made nearly 80 years ago, its studio, United Artists, never envisioned turning a profit on
You Only Live Once
for any longer than it remained in theaters — perhaps several months. (There was no such thing in the 1930s as a nationwide, "blanket" release, such as the kind unfurled last weekend with the latest
X-Men
film. Films by the major studios would play for some weeks, maybe months if very successful, in major urban theaters. In subsequent months, they'd make their ways to theaters in smaller cities, suburbs and, lastly, rural areas, by which time the 35mm prints were often pretty beat up.)
Though it was fairly common practice for studios to re-release a profitable film one, two, five or 10 years after its initial release, most works of cinema in those pre-television days effectively expired after their initial theatrical runs. If you missed it when it was in your town, too bad for you.
After their initial wave of "oh-my-God-they're-going-to-steal-all-our-business" panic, in the early 1950s, most studios realized that their own film vaults represented goldmines in licensing fees. TV stations were hungry for what we now call "content," and the film studios had tons and tons of it in their archives. This was a golden opportunity for them to profit afresh from it. Stations and studios both won, as did the viewing public, who received more opportunities to see some great films from decades past.Now, of course, so long as a single digital version of a film exists, it can be uploaded and endlessly copied, recopied and downloaded, thus guaranteeing it a certain kind of immortality.
Me, I still like to own physical copies of the films I love. About a decade ago, I purchased Image Entertainment's 2003 DVD edition of
You Only Live Once
, released in a joint venture with a rights-holding company, in this case Castle Hill Productions. This company, which folded in 2009, was an independent entity that purchased the rights to, restored and released hundreds of "classic" films, many of which were initially released by United Artists.
This DVD edition of the film (the only official American DVD release, as far as I know) has been out of print for at least a few years, and in fact retails for more than
$20 (new or used) on amazon.com
. That makes it one of the few DVDs I own that has actually increased in value since I purchased it.
Of course,
You Only Live Once
lives in digital versions, too. You can
watch it legally on Amazon Instant Video
, on which platform it rates two-and-a-half stars; the DVD version earns four. (Moral of the story: Online ratings are mostly worthless, kids.) If you wish to satisfy your inner scofflaw, you can also download it from any number of popular BitTorrent sites in the form of, among other choices, a digital file ripped from the film's Italian Blu-Ray release.
To review: In 1937, it was easy to see
You Only Live Once
. Between that year and roughly the mid-1950s, it might have been rereleased theatrically at sporadic intervals (films' individual exhibition histories are difficult to research). At some point, probably in the 1950s, United Artists struck some
kinescopes
of the film in order to air it on television. From the looks of it, one of those kinescopes was the source of the print that Castle Hill licensed to Image for DVD release in 2003. (The image quality on the DVD is good, but the print does exhibit many of the scratches characteristic of kinescope transfers that have been imperfectly restored.)
A strange and convoluted set of developments allowed me to watch
You Only Live Once
in my living room this past week, though they were not much more convoluted than the process by which any film plays in anyone's home. Such complex histories of distribution and ownership undergird every single film you've ever seen, though you'd never know it just by watching. We've very quickly become used to simply navigating Netflix's menu, clicking, and then sitting back to watch. (
You Only Live Once
is available on Netflix streaming.) I think it's worth considering the financial and industrial processes that allow us to watch moving-image texts. The more context, the better.
Then again, as viewers, we don't typically care much about how a film makes its way to us; we just want to watch movies and shows that we enjoy. And there's a great deal to enjoy about
You Only Live Once
,
which is often cited as a forerunner to film noir
, due to its stark black-and-white imagery and overarching sense of doom. For me, any film featuring Henry Fonda (in the running for greatest screen actor ever) and/or directed by
Fritz Lang
(in the running for greatest director ever) is worth seeing. I'd like to focus on two brief moments that elevate this film to greatness.
Lang was one of the great masters of visual storytelling; rarely was an artist more suited to his chosen medium. Upon my most recent viewing of
You Only Live Once
, three shots stood out as especially remarkable for the subtle, visual ways in which they complicate and enrich our understanding of the film's narrative. Two of these occur in a bank robbery scene that's central to the film's plot.
After an establishing shot of the bank, Lang gives us a medium-long shot of an unremarkable sedan as it's pummeled by heavy rain. At first, it seems that this is "just" another shot of the bank's general surroundings, but as the camera tracks in, the car's window is lowered ever so slightly and a pair of eyes slyly surveils the scene while guards unload an armored car. So slim is this slit, so monochrome the shot's palette, that the eyes are easy to miss; Lang is challenging us to notice them.
But this challenge is not just a visual game. The tiny window crack makes it impossible to identify the person inside the car — exactly as Lang intends. At this point in the story, the central narrative question is, "Will the down-on-his-luck ex-con Eddie Taylor [Fonda] return to a life of crime?" Eddie might very well be in that car, but Lang prolongs our suspense by giving us only that unidentifiable pair of eyeballs.
Moments later, another shot does much the same thing. Inside that same car, Lang shows us a close-up of a suitcase filled with gas masks and canisters of tear gas: the tools the crooks will use to incapacitate the guards and steal the armored car. A man's hand reaches down to grab one of the masks, and the camera pulls back slowly, falsely promising to show us the man's identity. Just as the shot is wide enough to get a sense of who the man is, he dons the mask, rendering his identity uncertain. Again, Lang expertly stretches out our tension simply by moving the camera. A brilliant shot.
One more shot really stunned me upon this viewing of the film. At a point in the story when Taylor has been falsely arrested for the bank job (it wasn't him in that gas mask!), a scene ends and Lang begins the next one with a dissolve that reveals a newspaper headline: TAYLOR FREED IN MASSACRE. "Phew!" we think, as the film's tension finally dissipates. But this, too, is a tease, and a deliciously manipulative one.
Just as we think Taylor has been exonerated, the camera pans right to reveal another front-page headline: TAYLOR JURY DEADLOCKED! It then tracks backwards to show a third joining the other two: TAYLOR GUILTY!! Turns out we're in the office of a newspaper editor who has, Dewey-defeats-Truman style, hedged his bets by having a different front page drawn up for each of the three eventualities of Taylor's trial.
In the same shot, the editor receives a phone call, then taps the "guilty" page mockup to indicate that it will be the cover of the late edition. A shot that starts with relief ends with a crushing blow. Lang's facility at manipulating our emotional responses is magnificent. Another reason for the film's immortality.