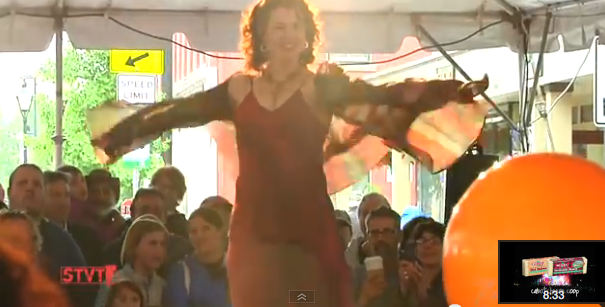 Courtesy of Eva Sollberger
From "Stuck in Vermont," Montpelier Fashion Show
The Montpelier Fashion Show has been a popular early-summer community event since it was first launched by local clothing store Damsels in 2004. Each year, hordes of people have turned out to watch models of all ages, shapes and sizes strut their stuff on a makeshift catwalk, often showcasing fashions from downtown businesses including The Getup. And each year, the show's proceeds have benefitted a local nonprofit.
But this year's event, held on June 7 at the
Montpelier Senior Activity Center
on Barre Street, is likely to be the last. Coordinator Anne-Marie Keppel is leaving the stage and, so far, no one else has stepped up to take her place.
Seven years after she took the reins of the fashion show, Keppel is leaving it and other event planning — including Strut!, the fashion show of Burlington's annual
South End Art Hop
— to focus on her work with the elderly. She's currently a residential care assistant at the Gary Home and Westview Meadows, and coordinates the Meals on Wheels program with
JUST BASICS, inc
.
"No one stepped forward and I just decided to wrap it up," says Keppel, who sent out calls through community networks and social media. "Though if someone wanted to take it on, I'd help, I'd give them all I know. It's such a precious community event that it's a shame to have it stop completely."
But Keppel isn't leaving without first presenting a blow-out 2014 fashion show in the state capital. This year's theme is "vintage," and, accordingly, Keppel is planning a more relaxed, old-school pace on the runway. Instead of the pulsing beats typical of contemporary fashion shows, in this one the models will take their time walking, create tableaux to show off the clothes. Montpelier City Councilor Dona Bate and Megan Ruprecht — aka Mrs. Vermont International
2014 — will host the event.
The theme applies to the audience, too: Attendees are encouraged to don retro getups. And those lucky enough to own vintage cars can reserve a special parking — and viewing — spot.
This year's fundraiser will benefit JUST BASICS, inc,. which, with the Montpelier Senior Activity Center, delivers food and necessary goods to area seniors. A "practical auction" will offer up useful items and services, donated by local businesses and organizations. These include $500 worth of tax preparation, an oil change, and even a 45-minute performance by the Montpelier Chamber Orchestra in one's own home.
Keppel says the overall benefit of the event is empowerment. "Clothes and fashion are nice, but for me it was always more about getting men and women to feel confident about their bodies," she reflects. "...Every shape and size, every age is represented on that runway. And, I swear, when these people walk on the runway and everyone cheers for them, they come off stage and they're glowing. And I know it stays with them."
For more information about the Montpelier Fashion Show or to reserve a vintage-car parking spot, call 262-6288.