, directed by Gareth Edwards. Who's Gareth Edwards, you may be wondering, and what makes
big enough to snag the job of rebooting the big guy?
(2010) for reportedly less than $500,000, with a crew of seven and special effects he created with off-the-shelf software in his bedroom.
In 2011, NASA discovered evidence of nearby extraterrestrial life and sent out a probe. On the way back to Earth, the craft crashed in northern Mexico. Result: Six years later, part of the country is occupied by giant, glowy flying squids. (That's what they look like, anyway.)
Should You Keep Missing It?
Once again, my 20-point, highly scientific scale for the assessment of indie films.
1-4 points: Does it look pretty?
4/4. To my non-expert eye, the visuals are a point in
Monsters'
favor.
According to this
, the film was shot guerrilla style in Mexico, Texas and various Central American locations, with unscripted extras filling all but the two main roles.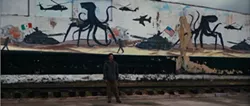 Edwards nonetheless manages to construct a plausible post-monster world, using visuals such as ruined buildings, a wall mural that integrates images of the aliens, and protest signs decrying U.S. military strikes outside the Infected Zone. (Everyone has gas masks at the ready, another ominous detail.) He knows that movie monsters you don't see are generally scarier than ones you do, and that the mere sight of a looming fence reminiscent of the one in
Jurassic Park
will give us a sense of the creatures' scale.
That's how he manages to get by with cheap digital effects — which looked fine on my puny 20-inch screen, though they might not in a theater.
Edwards' influences are clear: There's a river journey to the heart of darkness that recalls
Aguirre, the Wrath of God
and
Apocalypse Now
(with some stunning sunrise shots), and a scene near the end that channels the fear-mixed-with-wonder-in-a-mundane-setting that Spielberg perfected in
Close Encounters of the Third Kind
. I can't help being impressed that the British filmmaker did even partial justice to those inspirations on his budget.
1-4 points: Does anything happen?
3/4. More than in your average indie drama, less than in your average monster flick. Don't come expecting the latter, because most of the movie is the two principal characters wandering around and talking.
I admit, I was hoping for a scarier twist that didn't materialize, perhaps involving Samantha's unspecified reason for being where she is (see below). And I can't say I was ever paralyzed with terror, or even close. But Edwards did give me the willies by presenting the aliens indirectly — images in a soldier's night-vision device, a bloody handprint on a boat, a howl in the wilderness — instead of shoving them in my face. For that, he gets horror-flick points.
1-4 points: Does what happens make sense?
2/4. Eh, sometimes. We're given no backstory on why Samantha came specifically to Mexico, nor do we ever learn how she was injured or why she can't just take a flight home via some safer Central American nation. Do these mysteries have a purpose? Not really.
1-4 points: Do the characters seem like real people? Failing that, do they look pretty?
2/4. The script offers fairly boilerplate monster-movie characterization. Andrew is emotionally hardened by his job and eager to get in Samantha's pants, but has a secret vulnerability. Samantha is a poor little rich girl who feels empathy for the locals but doesn't do much to question her own privilege (as the kids like to say these days). And, for some reason, she lacks a change of clothes and hence traipses into the Infected Zone in short shorts like somebody on "The Walking Dead."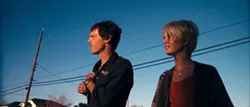 Given how much of the film focuses on the characters' interaction, I would have liked more complexity here. Like James Woods, McNairy easily creates characters who give off a pungent perfume of seediness and cynicism, so he's fun to watch even when he's just improvising dialogue. But Able (who's his wife in real life) comes off as more of a blank.
1-4 points: Does the movie give us a reason to care about anything happening on screen?
3/4. The immigration allegory of
Monsters
is, shall we say, obvious. It's a cool thing to see in a monster flick, and makes it clear why someone would choose Edwards to remake the
Godzilla
property, which has its own long history as an antinuclear allegory. But it doesn't bring a ton of new insight to the table.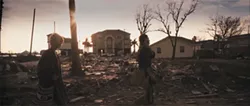 That said, Edwards gives his film a wonderful grittiness and originality by
not
setting it in American suburbia and by using the real denizens of his locations as extras who talk matter-of-factly about their interactions with the aliens. If the plot he creates is not that compelling, the film's world is, which is why I'm cautiously optimistic that
a sequel
is due out this year.
Verdict:
14/20. A lot smaller than
Godzilla
, but worth a look as an original (and economical!) twist on the monster movie.
This Week in Theaters
Will Edwards become a Hollywood heavyweight? Find out this weekend when
Godzilla
opens almost everywhere. Meanwhile, Jon Hamm seeks pitching talent in India in the Disney baseball flick
Million Dollar Arm
.
If you want to see Jim Jarmusch's hipster vampire movie
Only Lovers Left Alive
on a big(gish) screen, you may need to head to the Savoy's basement this weekend. No word yet on whether it will play at the Roxy, which
is
opening John Turturro's
Fading Gigolo
(he's the gigolo; Woody Allen's the pimp).
This Week in Your Living Room
Her.
Also:
I, Frankenstein
and
That Awkward Moment
, movies made for those in love with the bare chests of Aaron Eckhart and Zac Efron, respectively. (I was less impressed.) Finally,
Stalingrad
and
Stranger by the Lake
.