Courtesy of Mary Heinrich Aloi
Vintage Inspired Lifestyle Marketplace
The South End Arts District's "BTV Flea" market, organized by
Vintage Inspired Lifestyle Marketplace
, returns this Sunday, May 18, for a second season of monthly outdoor markets.
Described by Vintage Inspired's Mary Heinrich Aloi as "an eclectic mix that is typical of all South End ventures," the market features a wide array of antiques and handicrafts from local vendors. And this year, there's a lot more food.
Aloi says she reached out to area food trucks and other vendors to encourage a community-gathering atmosphere. She's hoping to build BTV Flea into a regular destination event that'll give crowds a new reason to hang out in the South End.
So after browsing the household goods and artwork for sale, market-goers will be able to gorge on wood-fired pizza from Colchester-based
Pizza Papillo
— which makes classic Neapolitan-style pizza in an oven the company imported from Italy and carts around on the back of a pickup truck — as well favorites from the
Lazy Farmer
, the chef-owned, Winooski-based "mobile catering food trailer."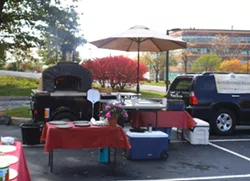 Courtesy of Pizza Papillo and Kathy Soulia
Pizza Papillo's portable pizza oven
Aloi also partnered with
Switchback Brewing Co
., which will open its tasting room during Sunday market hours and host special tours. Switchback marketing manager Candace Martabano hints that the brewery may "use this cool new event to sample some new releases, as well."
BTV Flea will take place the third Sunday of every month through October. So far, Aloi has 10 vendors signed up for the May 18 debut, and says Vintage Inspired's parking lot could accommodate many more. Anyone interested in vending can pay $25 to register the Friday before each market; it's $35 on shorter notice.
The best part? Not even summer storms will stop BTV Flea — if it rains, Aloi will just move everyone inside to Vintage Inspired's mostly-empty back room.
And if BTV Flea takes off early, she says she'll consider offering it twice-monthly or even weekly through the rest of the summer. The goal, Aloi says, is to create a regular community event that drives traffic to the South End.
"What's going on down here is just such a great part of Burlington," she observes. "But people need to know who we are and where we are."
The BTV Flea South End Market is at Vintage Inspired, 180 Flynn Ave., noon-4 p.m. on May 18, June 15, July 20, August 17, September 21 and October 19, with a special market on Sunday, September 7, for the South End Art Hop. Interested vendors should call 488-5766 or email info@vintageinspired.net.