IFC Midnight
Elizabeth faces her constant companion — her Mac laptop — in The Den.

This week in movies you missed:
A few months ago, proud papa Dave Donohue of South Burlington, a cinephile and sometime filmmaker, wrote to tell me that his son Zachary's feature directorial debut was being released by IFC Midnight.
Cowritten by Zachary Donohue — who grew up in Vermont and the Adirondacks — and his partner, Lauren Thompson,
The Den
is a horror flick visualized entirely through web and phone cams that has drawn
positive notice
from outlets ranging from the
New York Times
to FEARnet. It hasn't screened in Vermont, but it is available on VOD, and I finally got a chance to watch it.
What You Missed
Elizabeth Benton (Melanie Papalia) just won an academic grant to study the sociology of a video-chat site called the Den. Like
Chatroulette
, it pairs users randomly for real-time web-cam chats as long or short as they desire.
At first, meeting random people is addictive, even if most of them
are
guys asking to see her boobs. Elizabeth starts shunning face-to-face encounters with her pregnant sister (Anna Margaret Hollyman), her friends and her boyfriend (David Schlachtenhaufen) to hang out in the Den.
Then she encounters a user with a blocked video feed who starts sending her odd messages. Her computer wakes up mysteriously at night. Suddenly she's looking at footage of a young woman being brutally murdered.
The cops don't know how to approach this kind of cyber-crime, and the Den has no effective policing. (When Elizabeth tries to report the murder there, other users mock her and the victim.)
Desperate, Elizabeth does her own investigating. But her computer has been hacked, and now people in her life are disappearing.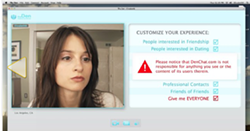 Why You Missed It
The Den
went to VOD after its premiere at New York's IFC Center. You can currently see it on iTunes, Amazon Instant and other services; look for it on Netflix this summer.
Should You Keep Missing It?
My 20-point, highly scientific scale for the assessment of indie films:
1-4 points: Does it look pretty?
3/4. Pretty, no. But I give
The Den
a special pass in this category because it uses its look and format far more effectively than your average found-footage horror flick.
To explain: I normally hate watching movies on my computer.
The Den
is a rare exception: a film that
should
be viewed that way, because it's far creepier. Most of the action takes place on Elizabeth's desktop, with all the familiar icons in place. If you happen to use a Mac, it's like watching a stranger hijack your OS — which is precisely what Elizabeth experiences.
And even if you don't, you're probably familiar with, say, the Gmail inbox. Watching Elizabeth get her messages on your screen is unsettling. It made me realize just how deeply I identify with the devices I use to communicate with people all day long — like they're extensions of me.
Never mind the torture and murder. The scene where Elizabeth clicks the wrong link and her hard drive gets wiped is already nightmare inducing.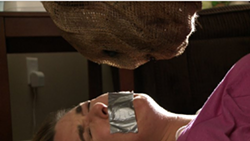 1-4 points: Does anything happen?
4/4. Expect blood. Toward the end, the film goes into standard full-on horror mode, which I found less interesting than the leadup. But at least it was more eventful than, say,
Paranormal Activity 4
.
1-4 points: Does what happens make sense?
2/4.
The Den
gets points for having a full-fledged, thought-out plot, even if it's confusing in places owing to the web-cam format. It gets docked points for a certain lack of plausibility endemic to horror, and especially found-footage horror. Too many people explore dark houses under suspicious circumstances with phone or other device in hand, filming the action, something that doesn't seem more likely no matter how many movies we see it in. (Why bother keeping your hands free to fight off an attacker when you could instead film your own demise?!)
Toward the end of the movie, the script invents a clever solution to this problem that ties into a final reveal. That reveal has real-world plausibility problems of its own that I won't get into here, but, hey, so did
The Purge
. And that's getting a sequel!
1-4 points: Do the characters seem like real people? Failing that, do they look pretty?
2/4. Papalia's performance is excellent, but when it comes to Elizabeth, the script offers frustrating hints of more depth than we ultimately get. She likes to string guys along; she seems a bit entitled; she prefers online interactions to real ones. For the purposes of a horror movie, that's adequate characterization, but more fleshing out would have made
The Den
more memorable.
1-4 points: Does the movie give us a reason to care about anything happening on screen?
3/4. I didn't particularly care about Elizabeth or her loved ones, but I did respond to the underlying theme — that people increasingly substitute online for real-world interaction without realizing they're compromising their privacy in ways they would never do IRL.
At first, the Den seems to erase spatial barriers and give Elizabeth enviable powers — one minute she can be talking to a stranger in the UK, the next to someone in India. Anyone she doesn't like can be dismissed with a click. But, like all miraculous powers and devices in horror movies, the Den exacts a price: It also erases the boundaries that keep her safe. Eventually she finds herself experiencing new, terrifyingly real boundaries — the concrete and steel kind, because yeah, reality is still out there. Alarmist as the scenario may be, it works.
Verdict:
14/20 as an indie, but as a horror fan, I'd grade it higher relative to movies of its genre. Here's hoping we see Donohue helming more horror (and other) projects after this auspicious debut.
This Week in Theaters
For kids,
Legends of Oz: Dorothy's Return
. (Given its abysmal reviews, I suggest you instead check out Saints and Poets Production Company's
Ozma of Oz
, which is based on a kick-ass book by L. Frank Baum himself. Seriously, Ozma rocked.)
For (some) moms: the Christian-inflected comedy
Moms' Night Out
.
For (other) moms: Rose Byrne explores her rowdy, raunchy side as a new mom in
Neighbors
.
At the Savoy,
Finding Vivian Maier
, about the posthumous discovery of an unsung photographer. At the Roxy,
Jodorowsky's Dune
and Colin Firth in
Railway Man
. No doubt those will appeal to moms of various stripes, as well.

This Week in Your Living Room

Veronica Mars, now on DVD as well as VOD.