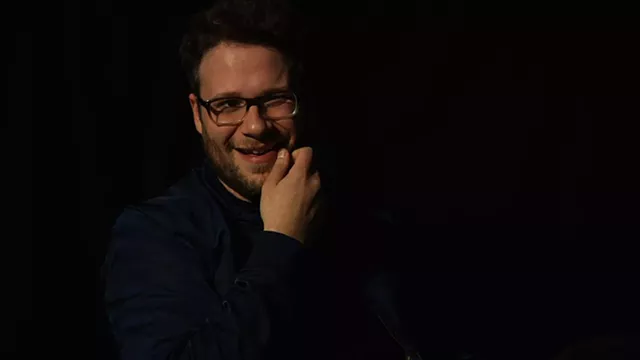 Courtesy of Eva Sollberger
Seth Rogen at Merrill's Roxy Cinemas.
"Oh, shit!" "That's brutal!"
Those were exclamations by members of the University of Vermont's Pi Kappa Alpha fraternity (or their guests) overheard as they left Merrill's Roxy Cinemas in Burlington at four this afternoon to discover that a warm, sunny day had suddenly become a soaker.
But the students didn't really seem that upset. After all, they'd just attended a special screening of Universal's upcoming comedy
Neighbors
followed by a Q&A with star Seth Rogen and his wife, Lauren Miller.
Pi Kappa Alpha won its meet-and-greet with the movie star by raising $27,000 for Alzheimer's research in a campus contest run by Rogen and Miller's organization
Hilarity for Charity
. (
More info here.
)
The brothers were clearly big fans, and they had a lot of questions for Rogen, all of which he answered with grace, frankness and humor. Also frequently heard: his trademark barking laugh and references to his recreational drug of choice.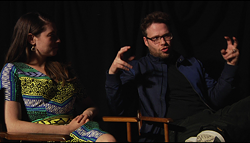 Courtesy of Eva Sollberger
Lauren Miller and Seth Rogen at Merrill's Roxy Cinemas
Ironically enough, the plot of
Neighbors
pits family man Rogen and his wife (Rose Byrne) against the hard-partying fraternity that moves next door to their idyllic home, led by preening bro-meister Zac Efron. The poster's tagline is "Family vs. Frat."

So, naturally, the first question Rogen got from a PIKE brother concerned his feelings about fraternities — before he took the role, during the shoot and now.

"I'm from Canada," said the comedian. "We don't really have fraternities there in the same structure they have them here."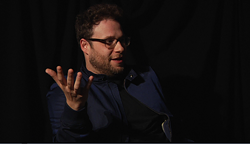 His ideas of frats came mostly from movies like
Animal House
, Rogen confessed — though Efron, he said, made sure their "good sides" were portrayed in the flick, too.
"After meeting all you guys, I think movies like mine do not do you service," he acknowledged with a laugh. "So I apologize. There's so much charitable and good will that happens from these organizations. I'm very grateful for it, and I'm glad you guys also are able to drink so much."
The questions ranged wildly, from Rogen's career and plans to the couple's relationship to, well, smoking. ("I want to thank you for
teaching me how to roll a cross joint
," one attendee said earnestly.)
But they did return periodically to Hilarity for Charity's mission to raise money for Alzheimer's research. Miller, who is also an actor and writer (check out her hilarious female bromance
For a Good Time Call…
), spoke movingly about watching her mother's functioning deteriorate after she developed Alzheimer's in her fifties.
Scroll down to watch
a full video
of Rogen and Miller's Q&A, courtesy of Eva Sollberger of "Stuck in Vermont." Here are a few notable tidbits:
Rogen on a creative fight sequence with Efron in
Neighbors
: "I honestly wasn't thrilled with the dildo going in my mouth."
On why his cult show (and first big job) "Freaks and Geeks" was cancelled: "It was really fucked up, for lack of a better word."
On
testifying before Congress
about the need for Alzheimer's research: "They literally could not have looked much less interested in what I was saying."
On his first meeting with Miller, nine years ago: "I was just a schlubby Jewish guy, not a movie star."
On Michael Cera: "He's a sweet little nymph of a man."
On the inspirations for
Superbad
, which he cowrote: "I couldn't get laid!"
On whether he and James Franco will perform at Kim Kardashian and Kanye West's wedding
after doing this
: "We've been grounded, me and Franco."
Whom he'd like to work with: Bill Murray.
The one person, living or dead, he'd like to smoke a joint with: Bob Marley.
When he appears to be smoking weed on-screen in movies, is he really doing it? Nope.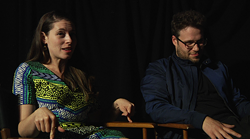 Does he want a "special initiation" into PIKE? "I'm in!" Especially if "it involves butts."
On the success of Hilarity for Charity's contest, which raised nearly $130,000 total: "I was like, 'I'm gonna have to go to fuckin' South Carolina for a school that raised 500 bucks. Kids are not gonna take the time to do this.' We didn't publicize it much. And it [the level of participation] was shocking, honestly. It was so far beyond what I thought it would be. We'll always have a special place in our hearts for Burlington, Vermont."
Miller's advice for students: "It's important to recognize what you care about. Take what you're doing anyway and funnel that into something for good. You guys have parties all the time! Just have parties and raise money for something you care about."

Rogen added to that: "When I was young, the idea of doing charity was weird. It felt fake. It felt like, 'What am I gonna do, get up and talk about this stuff that doesn't matter to me?' But eventually you'll find something that matters to you, and it won't feel fake. It'll just feel like talking about yourself, you know?

"And that, I think, is a very good lesson for the kids," Rogen finished — then guffawed, presumably at the idea of everybody's favorite "lazy, self-involved man-child" (as he described himself to Congress) giving anybody a PSA.
The students laughed, too — but we're guessing the message was received.
Now check out the video, with lots more fun Rogen ramblings: