Mark Hogancamp
From marwencol.com
There aren't too many documentaries I return to often, and I'm not really sure why. I probably watch as many docs as fiction films, but the latter show up more frequently in my "repeat viewing" list. You wouldn't believe how many times I've seen
Big Trouble in Little China
.
I don't think favoring fiction films means it's more fun to project yourself into an imagined world than into a slice of the real one. For one thing, I've found that the axiom "truth is stranger than fiction" is pretty accurate. For another, one of the few docs I do revisit is one that fills me with abject horror. That would be Errol Morris' second feature,
Vernon, Florida
(1981), a film that most people probably don't find as terrifying as I do. Whenever I see it I feel a chill, because I share most of my genetic material with the deranged lunatics who populate that great movie.
Another documentary in rotation at my place is Jeff Malmberg's 2010 film
Marwencol
, in part because my wife, Laura, is very fond of it. Every time I watch it, I like it a little more, too.
Marwencol
is about a man named Mark Hogancamp, who, in 2000, was beaten up so viciously in a bar fight that he spent nine days in a coma and 40 in a hospital. Upon coming to, his brain was so damaged that he had no memory of his previous life — he couldn't even remember that he'd been married.
Hogancamp developed his own form of therapy. Using dolls and miniature props, he created highly detailed, scale-model scenes from World War II, eventually building his own small Belgian village that would give the film its name. ("Marwencol" is a portmanteau of the first names of Hogancamp and two of his friends, Wendy and Colleen.)
Almost as extraordinary as the scale-model village itself are the photographs that Hogancamp takes of it. Though he's untrained as a photographer and uses consumer-grade equipment, he composes fantastic images.They eventually came to the attention of the editor of the art journal
Esopus
, who brought Hogancamp's story to greater attention.
Mark Hogancamp
From marwencol.com
When I watch movies, I'm mostly interested in cinematic style: creative and unusual uses of cinematography, editing, sound and the like. On some level, I want a film to justify its existence as a cinematic work by using — and using well — the artistic devices peculiar to that medium. A good story and solid performances are not enough for me, since they're not specific to movies. (This is why I fervently hated
The King's Speech
. Not only is it the stylistic equivalent of Wonder Bread, but its subject matter could have been better as a radio play.)
Marwencol
is one of the few films I'll watch simply because its subject matter is so damned fascinating. That's not to say it's not a well-made film; it's just not a film that breaks much new ground stylistically. It's sort of the cinematic parallel of
Tom Petty and the Heartbreakers
, a band I have loved for 30-odd years. Their strengths are excellent songwriting and musicianship, not breaking new ground.
I honestly think it's more difficult for an artist to be consistently competent than to be exceptional or trailblazing. I haven't seen any of Malmberg's other work (mostly of short-form docs), so I'm not sure whether he's a one-trick pony or in it for the long haul.
A grad school professor of mine used to say that every scholar gets to write about one big, important, revelatory fact: an uninvestigated event, a new and compelling context that reveals new insights. If that theory applies to artists as well, then perhaps Malmberg found his One Big Story in the tale of Mark Hogancamp.
And while Hogancamp's unusual, tragic, uplifting, remarkable story does lend itself to cinematic treatment — in part because his miniatures and photographs are so exquisite — Malmberg does a beautiful job of parsing out story elements to keep viewers interested.
Most notable in this regard is the revelation, dropped almost casually about two-thirds of the way into the movie, that Hogancamp enjoys wearing women's shoes. When he visits New York City for the first gallery show of his work, he is charmingly more anxious about choosing his footwear than he is about the response to his art. The story is already so strange and rich that this unusual, late-film disclosure can only serve to intensify our fascination. And, to Malmberg's credit, that's exactly how he uses it. This story just keeps giving and giving — a quality that is even scarcer and harder to achieve in documentary than in fiction film.
The richness of
Marwencol
's story — and the questions it raises about the resilience of the human brain — has made it a favorite in my house. Not long ago, Laura and I purchased and framed a high-quality enlargement of a Mark Hogancamp photo, and it hangs in the very room where we occasionally revisit
Marwencol
.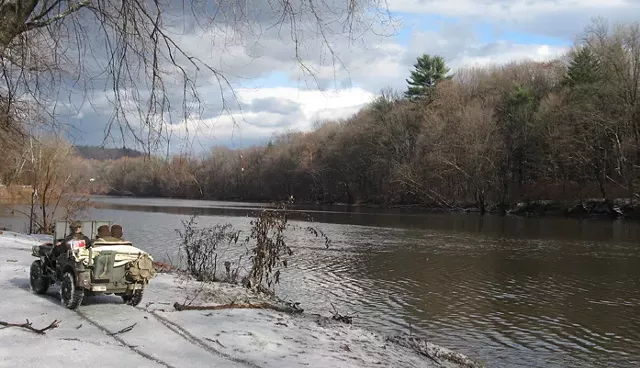 Mark Hogancamp
From marwencol.com