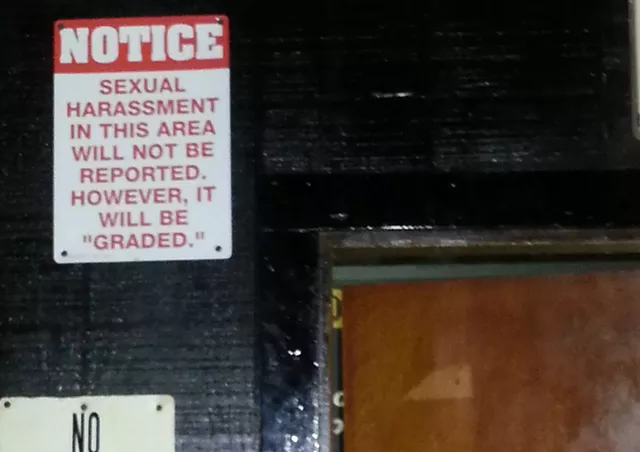 I confess: I'd never been to What Ales You, a popular college sports bar at the corner of St. Paul and Main streets in downtown Burlington, until recently. The occasion for my first visit? A tip from a concerned
Seven Days
reader, who wrote to the editors about a sign he'd spotted near the pub's front entrance.
"With issues about campus safety and date rape, I couldn't believe this sign was right at the door of a college bar," the tipster wrote. "With all the events and programs I see around campus to try to spread awareness about sexual violence, I am stunned to see such a blatant contradiction that encourages harassment in a popular college bar."
Fair point
, we thought, and went to investigate.
Tracking the sign back to its source was easy: He was sitting on a barstool when I wandered in. While the ID-checking guy pawed through my bag and checked my driver's license (solid moves, considering the place
lost
its liquor license for 15 days last year for serving minors and overserving adults, according to a story in the
Burlington Free Press
), I took a look around.
What Ales You is exactly what one would expect in a sports bar: wooden tables, flatscreen TVs, cheap brews. It was just after 5 p.m. and the bar already was already rocking a few tables of patrons and a strong beer smell. Sure enough, the metal sign in question was posted on the wall, just above the front door.
And here's the scoop: Turns out, the sign was hung by What Ales You owner Todd Ellsworth, a reticent fellow who told me it had been on the wall for almost 10 years. (So not exactly breaking news.)
The owner said that this particular decorative sign — like a dozen or so others adorning the bar's walls, from imitation road signs to even more misogynist jokes — was a gift from a friend. It remained on the wall because it "takes up wall space" and "just kinda goes [with the ambience.]"
Ellsworth seemed puzzled by the belated media curiosity ("It's just a sign"), and added he "hadn't noticed that one" for years.
A bit odd, considering that it's above the door to his establishment. But maybe he follows the arrow on a nearby "Hippies Use the Backdoor" sign and doesn't use the front entrance much.