This week in movies you missed:
This drama about a group home for at-risk kids got wide-spread acclaim and Independent Spirit Awards, but no wide theatrical release.
What You Missed
Twentysomething Grace (Brie Larson) works at a residential treatment facility for teens with her boyfriend, Mason (John Gallagher Jr.). Both are veterans of the foster-care system. But, while Mason was raised by a loving family, Grace harbors dark memories that start to emerge when she tries to help a sullen girl from a middle-class home (Kaitlyn Dever) who's been cutting herself.
Meanwhile, all the young employees of the facility struggle with the built-in limits of their jobs: They can't question the decisions of therapists and "experts" who don't interact daily with the kids, and they can't do much to retrieve kids who manage to leave the property. All they can do is provide "safe space" in an unsafe world.
Why You Missed It

Short Term 12
gave a boost to the career of writer-director Destin Daniel Cretton,
who's reportedly in talks to direct The Glass Castle with Jennifer Lawrence
. This, his second film (the first was
I Am Not a Hipster
), did make it to Vermont: It played for one week at the Savoy Theater. If you missed
Short Term 12
then, catch it now: It just hit Netflix Instant, and is also on DVD and Amazon Instant.
Should You Keep Missing It?
My 20-point, highly scientific scale for assessment of indie films:
1-4 points: Does it look pretty?
2/4. Cretton goes for a fly-on-the-wall documentary look, with lots of close-ups and handheld camera. The occasional shot has a pictorial quality, but this film isn't about visuals: It's about performances.
1-4 points: Does anything happen?

4/4. Yes. Maybe too much?
Here's the thing about
Short Term 12
: Take this screenplay and film it with different actors and a different director, and you'd have a Lifetime movie. Stylistically, the film is a slice of life with a raw, authentic feel, yet its plot arc is conventional and crafted, even predictable. As soon as we see Grace in a doctor's office finding out the results of a test, we know where the film will go. Grace's Big Decision will become a referendum on the life she's built for herself, and her mature, guarded façade will crack. That's precisely what happens.
Short Term 12
is not a Lifetime movie, because it showcases performances so powerful they'll haunt you for days. But it is the rare indie film where I would prefer to see
less
happening. The plot is far less interesting than the incidental details of living and working in a group home,
a setting that Cretton knows firsthand.
1-4 points: Does what happens make sense?
2/4. As I noted above, the plot bows a bit too often to dramatic clichés. There are a few too many on-the-nose lines, as when Grace explains the rationale for cutting: "It's impossible to worry about anything else when there's blood coming out of you." And the behavior of Dever's character doesn't feel as organic as it should; she's more like a device to draw certain reactions from Grace.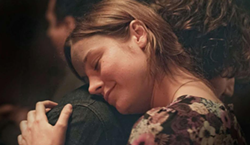 1-4 points: Do the characters seem like real people? Failing that, do they look pretty?

4/4. This is why acting matters. The performances in
Short Term 12
rise above the script's emotional manipulation; virtually every single actor sells every line.
Brie Larson seems destined to get the same treatment as Jennifer Lawrence and Shailene Woodley: She has Hollywood looks and a ton of talent. But I hope she doesn't disappear into some action franchise. Whether she has a supporting role (as in
The Spectacular Now
) or a central one like this, she infuses every line with intelligence and purpose. She made me believe in Grace even though I didn't entirely want to.
Two of the actors playing the kids have monologues so intense — and so well-executed — that they could leave viewers in tears. As a boy who's approaching 18 and fears leaving the safety of the group home, Keith Stanfield raps out his angst, which sounds laughable but isn't. Dever, who played the feisty pot-growing kid on "Justified," has a devastating scene where the character finally reveals her motivation — using a "children's story" and hand-drawn cartoons. Again, it could be treacly, but instead it's one of the most believable fictional representations of that particular trauma I've ever seen.
1-4 points: Does the movie give us a reason to care about anything happening on screen?
3/4. Here's the moment of truth. Is the screenplay of
Short Term 12
cheesy enough at times to make you detach yourself from its disturbing subject matter, defeating the film's purpose? (I call these "eye-roll moments." During Lifetime movies and self-conscious Hollywood films on Important Topics, I do a lot of eye rolling.) Are the performances powerful enough to pull you back in?
For me, the answer to both questions is yes. On balance, I cared a lot.
And many had even stronger positive reactions.
Check out this piece on the Dissolve by critic Nathan Rabin
, himself a veteran of group homes for teens.
Verdict:
15/20. Bring tissues. You'll come away with a stronger appreciation of the poorly paid people who do the hard job of supporting kids whose problems go way beyond the "normal teen stuff." Might make a good double feature with Bess O'Brien's local documentary about foster care,
Ask Us Who We Are
.
This Week in Theaters
New at the Roxy:
Under the Skin
and
Le Week-End
.
(Personal note: I just read Michel Faber's novel
Under the Skin
in 24 hours, and it
did
get under my skin. Whether you see it as science fiction, social commentary, character study or all three, it's just incredibly well done. Excited for the movie, though I gather it jettisons most of the book's plot, and certainly the parts that would require expensive CGI.)
And in wide release: Johnny Depp enjoys the Singularity in
Transcendence
. Some kid claimed
Heaven Is for Real
, and there's a movie about it. Bears do bear things in Disney's
Bears
.
A Haunted House 2
does the important work of spoofing
Paranormal Activity
movies, lest we start taking them seriously.
All showtimes here.
This Week in Your Living Room
Black Nativity, The Invisible Woman, The Nut Job, Philomena, Ride Along, The Secret Life of Walter Mitty.