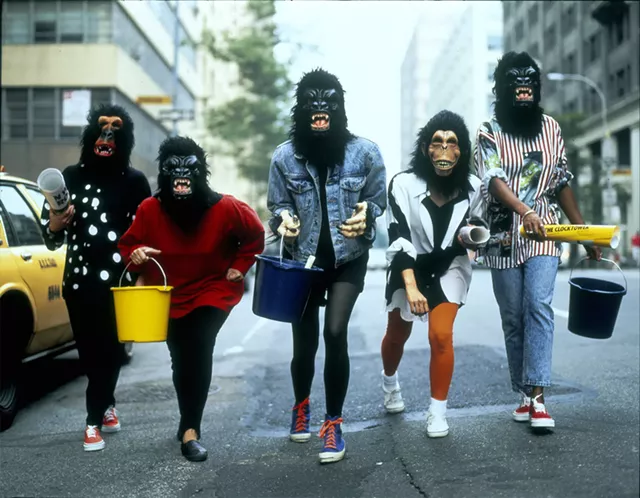 Courtesy of Middlebury College
Guerrilla Girls
Frida Kahlo, the Mexican painter who died 60 years ago, will make a rare public appearance on Thursday evening. She'll be speaking and performing at 7 p.m. in the Dance Theater at Middlebury College's Mahaney Center for the Arts.
Even though her self-portraits have become famous worldwide, Kahlo's fans may not recognize her at the Middlebury event. She'll be wearing a gorilla mask and looking ferocious.
Of course, this "Frida Kahlo" isn't
that
Frida Kahlo. The one taking the stage at the arts center is a member of Guerrilla Girls, a troupe of masked avengers who style themselves the "conscience of the art world." Each member pays homage to the work of a dead female artist by taking her name and thus preserving the Guerrilla Girls' mystique of anonymity.
"It's a shtik," the activist known as Frida Kahlo explained in a phone interview on Tuesday. "We dress in full jungle drag. We're photo fodder."
The tactic has generated a publicity tsunami in the decades since the Guerrilla Girls began plastering Manhattan's SoHo gallery district with posters lambasting institutional sexism in the art world. One of the more memorable images features a side view of a reclining nude woman wearing a gorilla head and asking, "Do women have to be naked to get into the Met Museum?"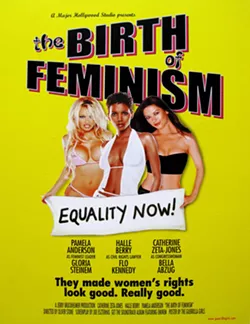 Courtesy of Middlebury College
The Birth of Feminism
This and a dozen other of the group's posters will be on display in the Middlebury College Museum of Art through May 25 in a show titled "Guerrilla Girls: Art in Action." The exhibit was produced by students taking part in a course on art, performance and activism taught by Emmie Donadio, the museum's chief curator.
Middlebury has also purchased a portfolio of Guerrilla Girls posters spanning the years 1985 and 2008. "Donadio was an early supporter of ours," notes Kahlo, who's been with the troupe from the beginning.
Progress toward gender equity has occurred in the art world, as in other sectors of American society, Kahlo acknowledges. "But in a couple of important ways," she adds, "things have actually gotten worse."
Work by women artists doesn't sell nearly as well at luxury auction houses such as Christie's as does art produced by male artists, Kahlo points out. "It's billionaires who are buying art now, and they're not usually women or people of color. They buy what they identify with."
And while some galleries and museums have become more inclusive in showing work by women and artists of color, the art world remains heavily white and male "the higher up its hierarchy you go," Kahlo observes.
The Guerrilla Girls have broadened their protests to encompass sexism in Hollywood. "Even the U.S. Senate is more progressive than Hollywood," proclaimed a giant billboard near the site of the 2003 Academy Awards ceremony. "Female senators: 14 percent. Female film directors: 4 percent."
The agitators have taken their act internationally, too, calling attention to gender disparities in Venice, Istanbul, Montréal, Dublin and Warsaw.
So how many Guerrilla Girls are there, anyway?
"We have many secrets, and that's one of them," Kahlo replies. "If we weren't anonymous, you probably wouldn't be so interested in us."
Kahlo also won't say much about her own background. She's a visual artist who does politically engaged work, and she's from "a state bordering on the Midwest."
Why Frida Kahlo?
"Because I'm a closet Latina trapped in the body of a northern European."
Kahlo says she doesn't have much familiarity with Vermont's art world but much admires the state itself. "Vermont is a place where what you want to have happen, actually does happen," she declares.