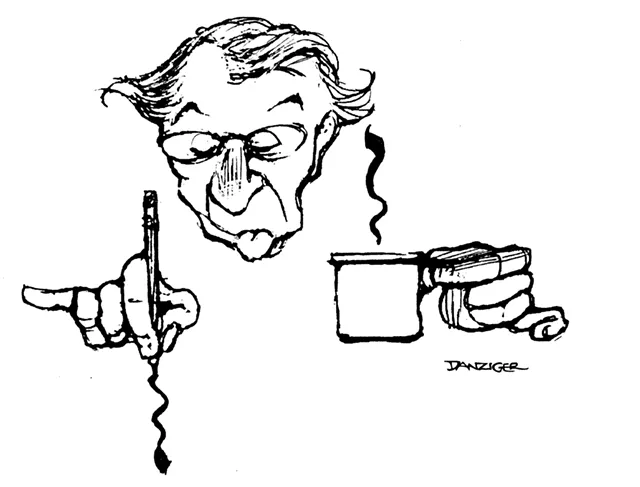 Courtesy of the Center for Cartoon Studies
Jeff Danziger, by his own hand
Within the pages of
Jeff Danziger
's recent book
The Conscience of a Cartoonist
, you'll find some of the most trenchant political cartoons of the last decade and a half. But if you happened to be in need of a barbell or a cudgel, the book could fill those needs, too, in a pinch. This is a mighty tome.
"The reason it's the size it is is that I wanted to do a complete job of talking about how the times have changed," Danziger, 71, says by phone from his home in New York City's Hell's Kitchen. "The times" that he's referring to are the years since September 11, 2001, a time period that provides the book's narrative backbone. When future historians want to write about the tumultuous political changes of this era, they'd do well to study Danziger's book. His cartoons are particularly keen, and often vitriolic, in responding to current events.
Courtesy of Jeff Danziger
The book is sizable for another reason: Read from start to finish, it's something like a master class in political cartooning. Using his own cartoons and numerous mini-essays about them, Danziger, a recipient of the prestigious
Herblock Prize
for excellence in editorial cartooning, relates nearly everything an aspiring cartoonist would want to know.
"I did want to write something about the art form, about how politics actually work," Danziger says. "As you start to find yourself with a political viewpoint, you have to control that, so you're not saying the same thing every day." His own political viewpoint is pretty leftward-leaning.
Courtesy of the Center for Cartoon Studies
Danziger says that he feels this pressure to keep things fresh not only in his political cartoons, which are published in many national outlets, but in the less controversial cartoons that are familiar to many Vermonters. Readers of the
Barre-Montpelier Times Argus
and the
Rutland Herald
may recognize Danziger's name and art from the cartoons he's drawn for those newspapers since 1975. He has also drawn for those same papers (which are owned by the same family), a more lighthearted, recurring cartoon called "The Teeds," about daily life in Vermont.
Danziger has strong ties to Vermont, having moved here from New York in 1966 and maintained that residence since then. He divides his time between New York City and a home in Groton. Freelance and advertising work constitute much of his output, though Danziger is surely best known for his editorial cartoons.
Courtesy of Jeff Danziger
The cartoonist further strengthens his Vermont connections next week. On April 17, Danziger and cartoonist Tom Tomorrow (aka Dan Perkins), whose satirical comic "
This Modern World
" appears in many alternative weekly newspapers (including
Seven Days
), will hold a
free public conversation at the Norwich Congregational Church
. The event is sponsored in part by White River Junction's
Center for Cartoon Studies
, publisher of
The Conscience of a Cartoonist
. The book is distributed by Seattle comics press Fantagraphics.
Courtesy of the Center for Cartoon Studies
At the talk, Danziger will certainly comment on the current state of political cartooning, which, he feels, is "at the lowest ebb it's ever been at in this country." Fewer and fewer people can make a living as a political cartoonist, he says, noting there are "probably only 40 or 50" such people working at this time.
Such a situation is regrettable, Danziger says, because "newspapers remain … much more interesting news sources than television," which Danziger faults for endlessly recycling the same handful of currently trending stories. This reporter cannot disagree.
"Passion, Politics and Panels," Jeff Danziger and Tom Tomorrow in conversation at the Norwich Congregational Church on Thursday, April 17, 7:30 p.m. Free. cartoonstudies.org