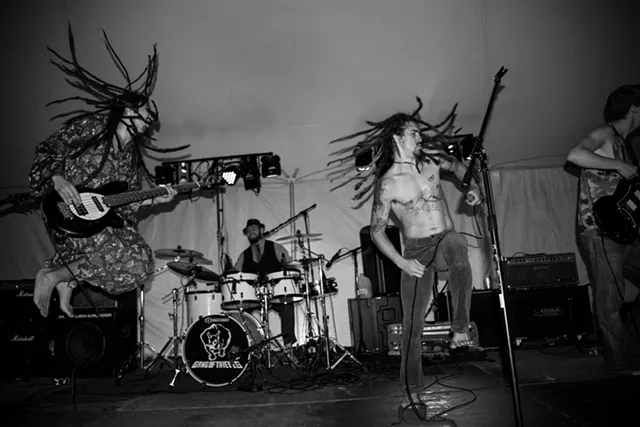 Courtesy of Gang of Thieves
Gang of Thieves
On Sunday, April 20, local rockers Gang of Thieves will release their new album,
Thunderfunk
, with a show at ArtsRiot in Burlington. Why April 20? Well, because it's Easter Sunday, of course. And as we all know, no band is down with Jesus and/or the Easter Bunny like GoT. Hallelujah. Praise Cadbury.
What's that? You think maybe there's some
other
reason the show is on 4/20? Y'know,
four-twenty
. (Wink, wink.) Hmm. That hadn't occurred to us, actually. But that couldn't possibly be the case. After all,
this ain't no weed-fueled outlet
.
While we relax with some
totally legal
medicinal herb — for the cataracts, doncha know — and attempt to unravel that mystery, here's a video for the first single from the band's new record, a spunky little ditty called "Sexy Star Circus." The song is a pretty rollicking party anthem and the video follows suit, featuring plenty of party people, choreographed dancing girls, hula hoops and a cameo by some of the the dudes from Rough Francis — including, in the interest of full disclosure,
Seven Days
' own Bobby Hackney Jr. Dig it.