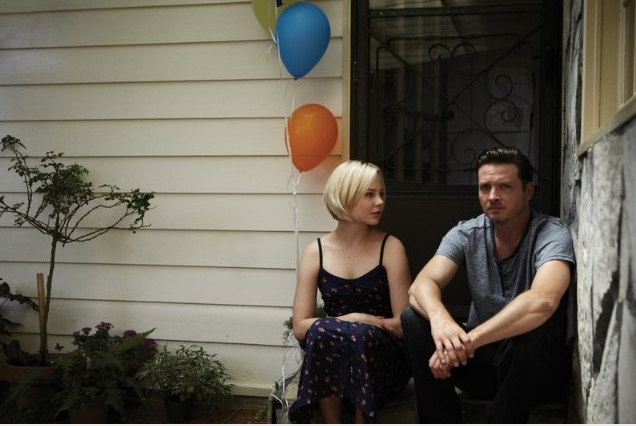 Starz/Anchor Bay
Clemens and Young as Tawnee and Daniel

This week in movies you missed:
Yeah, I know. It's called Movies You Missed, not TV You Missed. But this year, despite watching almost nothing live, I keep discovering great new drama series I want to recommend. To use a bad cliché, this one might just fill the "Breaking Bad"-shaped hole in my heart.
What You Missed
(if, like me, you don't want to pay for 150 or so channels you won't watch just to get the Sundance Channel)
Daniel Holden (Aden Young) has served 19 years on death row for raping and murdering his girlfriend when he was 18 years old. Now DNA evidence has vacated his conviction, to the joy of his sister, Amantha (Abigail Spencer), who always believed in his innocence.
But the rest of Daniel's small Georgia town isn't so sure. After all, he confessed to the crime — albeit after a prolonged, unrecorded interrogation. The prosecutor of his case, now a state senator (Michael O'Neill), is eager to get him back behind bars.
Meanwhile, Daniel is having trouble adjusting to life on the outside in the 21st century. His father is dead, and he's meeting a new family for the first time, including a stepbrother (Clayne Crawford) who clearly wishes he was still in jail. On a deeper level, Daniel doesn't know how to bridge the gap between his teenage self in the early '90s, his adult self now, and the man who spent nearly two decades reading the classics and meditating in a windowless cell, preparing himself for the end he thought was inevitable.

Why You Missed It
See above re: the Sundance Channel. Happily enough, Netflix has brought us the six-episode first season of "Rectify" on Instant, along with
"The Returned"
and "Top of the Lake." The show is also on DVD and Amazon Instant. Season 2 will premiere on June 19,
according
to Sundance
.
Should You Keep Missing It?
These days, network TV shows are getting faster- and faster-paced. An episode of "Scandal" packs in as many plot twists as an entire season of "Dynasty." Hundreds of people seem to die on every installment of "The Following." I tried to rewatch an episode of "Melrose Place" recently and couldn't — it was like watching molasses trickle.
Yet some of the best shows today are slow ones that earn their slowness. "Rectify" does. This is not a breakneck drama, and it is not a mystery. Do not expect to find out whether Daniel is guilty — not yet, anyway. Creator Ray McKinnon is after something different: local color, exploration of jagged psychological terrain, and reflections on the fleeting presence of the sacred in the everyday. This is a show that can allude to Plato's allegory of the cave and earn that reference.
We discover what's different about this show at the same moment that the world discovers what's different about Daniel. At the press conference outside the penitentiary, he doesn't thank his lawyer (Luke Kirby) or proclaim his innocence. He simply explains in a halting voice how strange it feels to be released from the routine that has governed his entire adult life.
In situation after situation, Daniel doesn't react in the expected manner, and he has no interest in feigning normality — even if this makes him look shady, weird and guilty. Some people get him — like his mother (the wonderful J. Smith-Cameron) and his stepbrother's born-again wife, Tawnee (Adelaide Clemens, also great), who wants to save his soul. Most people don't.
How do you make the audience connect with a quiet, low-key character who may have committed a heinous crime? I don't know, but Young does. We see exactly why the very Christian Tawnee is attracted to Daniel: He has the air of a prophet or someone from another world (a "star man," as her husband derisively puts it). He feels so lost in his bizarrely discontinuous life, and expresses it so plainly and humbly, that he makes other people see beyond the confines of their daily expectations, too.
One thing I really like about "Rectify" is that it doesn't demonize Daniel's profoundest antagonist — his stepbrother, Teddy. Teddy is a tire salesman, a man of practical ideals and simple appetites, a guy who will never satisfy his wife's hunger for spiritual conversation. But the world needs people like him, too, and Crawford's carefully shaded performance doesn't allow us to hate him.
Series creator McKinnon is best known as an actor: He played the Reverend H.W. Smith on "Deadwood" and has appeared on "Justified" and "Sons of Anarchy" and in the films of Jeff Nichols. He knows his southern atmosphere, and his rhythmic dialogue holds echoes of those other ambiance-heavy works.
Starz/Anchor Bay
Spencer as Amantha
For me, the only false note is Spencer as Amantha. She's not a bad actress by any means, but her character doesn't seem to fit the milieu; she's too fast talking, too styled, too urgent, too urban. Maybe this is supposed to indicate that Amantha has been out of town (in Atlanta?) for a while, but we never learn where she was or what she was doing. She just doesn't seem to belong to the Holden family.
Verdict:
I've heard "Rectify" described as "Terrence Malick on TV." Be assured: The show has exactly zero whispered voiceovers.
But it does feature beautifully shot heartland landscapes (magic light!), and it does cast a spell. The Georgia locations that are starting to look so boring on "The Walking Dead" (will they ever get out of that pine forest?!) yield strange enchantment here.
I don't know how long a show with "Rectify"'s premise can last, but I hope more people discover it on Netflix and fall in love the way I did. I'd love to see it reach its natural conclusion.
This Week in Theaters
Nymphomaniac: Vol. 1
won't be a Movie You Missed after all. Catch it at the Roxy.
Elaine Stritch: Shoot Me
gets a regular run at the Savoy.
Meanwhile,
Captain America: The Winter Soldier
is everywhere, while the surprise Christian hit
God's Not Dead
touches down at a few theaters. Something tells me no one will be rushing out to see both that and the von Trier this weekend, even if both movies are sort of about martyrdom.
Showtimes here.
This Week in Your Living Room
47 Ronin, Anchorman 2: The Legend Continues, At Middleton, The Bag Man, Knights of Badassdom.