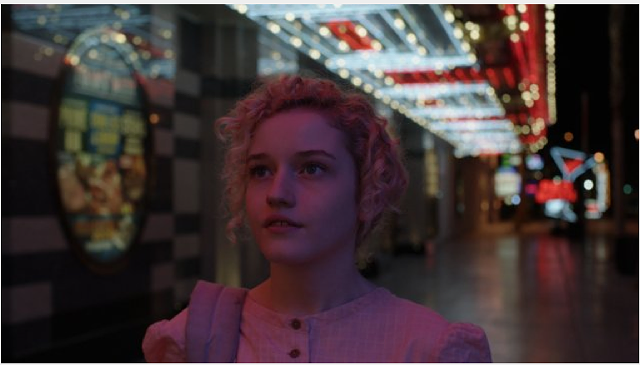 Phase Four Films
A prairie girl goes to Oz, aka Vegas.

This week in movies you missed:
The Netflix blurb for this one hooked me: "An idealistic teen from a devout Mormon family believes that she's been impregnated by listening to music and travels to Las Vegas to find the father."
I figured
Electrick Children
would play this bizarre premise for cheap laughs ("Oh, aren't naïve Mormons who believe in immaculate conception funny?"). Wrong. Rebecca Thomas' directorial debut is very much in earnest.
What You Missed
Fifteen-year-old Rachel (Julia Garner) lives in a fundamentalist Mormon compound in rural Utah. The man she knows as her father is the sect's prophet (Billy Zane). But her mom (Cynthia Watros) tells mysterious stories of meeting a "red Mustang" in the desert that suggest Rachel may have had a less holy origin.
Curious about forbidden technology, Rachel finds a rickety old tape recorder in her basement and plays the first cassette that comes to hand — a cover of "Hanging on the Telephone" by the Nerves. She finds the raw sound so powerful that, when she discovers months later that she's pregnant, she believes the unknown singer has done the deed with divine assistance.
Rachel's parents are more inclined to think she was raped by her brother, the oddly named Mr. Will (Liam Aiken), and rush to arrange her marriage to someone else. Rachel steals a truck and lights out for Vegas in search of her rock 'n' roll lover, with Will — banished from the compound — as a stowaway.
Why You Missed It

Partially funded by a $10K Kickstarter campaign,
Electrick Children
screened at SXSW in 2012 and later at New York's IFC Center, but doesn't appear to have had a wider U.S. theatrical release. Now on Netflix and Amazon Instant.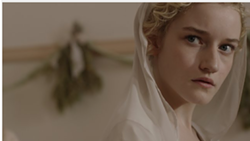 Phase Four Films
Rachel prepares for marriage.
Should You Keep Missing It?
Once again, my 20-point,
highly
scientific scale for the assessment of indie films.
1-4 points: Does it look pretty?
3/4. For a low-budget indie, yes. There are striking visual contrasts between Rachel's poorly lit compound (filmed on the same ghost-town site as the bicycling scene in
Butch Cassidy and the Sundance Kid
!), the gauzy neon of Las Vegas, and the sun-soaked desert highways. The whole film has a dreamlike atmosphere that matches Rachel's haze of adolescent delusions (or are they?).
1-4 points: Does anything happen?
3/4. For a mood-driven film,
Electrick Children
is fairly eventful. In Vegas, still dressed in full prairie garb, Rachel accosts a band of skater boys leaving a club, hoping that one is her mystery singer. (This makes her seem more brain damaged than religious or naïve, but let that pass for now.) Thus she meets Clyde (Rory Culkin), a metal enthusiast with whom she forms an unexpectedly touching bond. Thomas portrays the extreme culture clash between the FLDS kids and the secular ones without stereotyping anyone.
1-4 points: Does what happens make sense?
2/4. Uh … sometimes. As it goes on,
Electrick Children
develops script problems, with one coincidence I couldn't get past. (It's one of those implausibilities that some people call "magical realism" and I call "sloppy writing.") The film also has an ambiguous endings that's perhaps
too
open to interpretation. I thought the last scenes revealed who fathered Rachel's baby by implication. An interview with the director suggests she intended viewers to draw a whole different conclusion.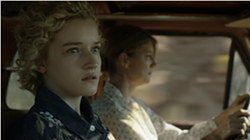 1-4 points: Do the characters seem like real people? Failing that, do they look pretty?
3/4. This movie is all about the rising star of Julia Garner, who also appeared in the thematically related
Martha Marcy May Marlene
. From her first, almost wordless scene, Rachel exudes an alertness, intelligence and energy that distance her from our stock images of downtrodden girls on polygamist compounds. She pulls us into her world.
Take the scene where Rachel tells her tape recorder that Clyde is "perhaps the spawn of Satan." Ninety percent of young actresses would play this like Dana Carvey's Church Lady — a cartoon zealot. Garner nails a mixture of halting perplexity and regret. This girl doesn't
want
to consign anyone to hell, and is starting to realize there's a big world out there that she doesn't understand.
1-4 points: Does the movie give us a reason to care about anything happening on screen?
3/4. I took a point off in the above category because, for all Garner's efforts, Rachel's actions sometimes seem just
too
clueless. That distances us from her story and ultimately led me to my flawed assumption about the ending.
Still, this is one of the better films I've seen about the culture clash between religious fundamentalists and mainstream America. Thomas was raised mainstream LDS and researched FLDS compounds for her work on a documentary. While this film is far from sober documentary realism, it doesn't treat the ultra-religious like aliens or scolds, nor does it demonize those who prefer sex, drugs and rock 'n' roll.
And Rachel's erotic fixation on an old song played on a shitty cassette tape? Sure, it's laughable to teens today, with so many stimuli competing for their attention. But as someone who was raised without TV or the internet, I buy it. If a generation's sexual revolution started with Elvis swiveling his hips in black and white, why shouldn't one girl's sexual revolution start with "Hanging on the Telephone"? And why shouldn't she interpret her feelings in the only way she knows how — as a form of divine grace?
Verdict:
14/20. A flawed but promising debut for Thomas, and a far better movie than its blurb suggests.
This Week in Theaters
Question of the week: Will Lars von Trier's
Nymphomaniac
end up as a Movie(s) You Missed? Don't look for it around here — yet.
Only at the Roxy: Wes Anderson's
The Grand Budapest Hotel
and Jason Bateman's directorial debut
Bad Words
, about a foul-mouthed case of arrested development competing in a spelling bee for kids.
Elsewhere: Darren Aronofsky brings us biblical spectacular
Noah,
and I hope he makes it weird. Ahnahld stars in the bloody DEA drama
Sabotage
, also featuring Mireille Enos of "The Killing" as the only female member of his task force. She's come a long way from playing polygamist twins on "Big Love."
Find showtimes here.
This Week on Video
Delivery Man, The Great Beauty, Odd Thomas, The Past, Walking With Dinosaurs, The Wolf of Wall Street.