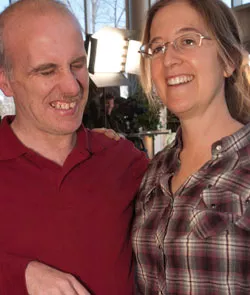 FIle: Matthew Thorsen
Mark Utter with Emily Anderson in 2012
For someone who cannot speak verbally, Mark Utter has had an awful lot to say lately. The 49-year-old Colchester man, who was featured in an April 11, 2012,
Seven Days
cover story, "
Utterly Mark: A Vermonter with autism makes his inner voice heard through film,"
has been traveling around the state screening his film,
I Am in Here
, most recently on Wednesday night in Montpelier as part of the
2014 Green Mountain Film Festival.


Utter has screened his film at least 20 times since it premiered in Burlington on March 16, 2013. The 30-minute autobiographical movie, which Utter wrote and animated himself with help from his facilitator, Emily Anderson of Vermont's
Awareness Theater Company
is typically followed by a one-hour question-and-answer session with the audience.
Those discussions present some unique challenges for the nonverbal Utter, who communicates with Anderson's help with a method known as facilitated communication (FC) or "supported typing." Essentially, Anderson sits at Utter's side with one hand gently resting on his arm while he hunts and pecks at a computer keyboard. As Utter explained in 2012, having Anderson by his side, occasionally offering him verbal cues and encouragement, helps focus his brain on the task at hand.
During the Q&A sessions with his audience, Utter's words are projected onto a screen behind him while he types. As the audience discovers, the process can take several minutes to produce just two or three sentences. So why use words projected on a screen and not, say, a computer-generated voice like the kind made famous by theoretical physicist Stephen Hawking?
"If it's just going to be this funny computer voice coming out, it doesn't really show Mark's work at it," Anderson explains. Seeing Utter's words appear on screen, including his frequent typos and corrections, she says, shows, in real time, just how much effort goes into his writing.
And Utter has been doing quite a lot of writing since he completed his film. Last month, he was invited to give a presentation before a fine arts thesis class at New York University. There, Utter provided about 10 pages of recent journal entries for the class' review and critique.
Utter also participated in a writing assignment given to the entire class, which required students to pen a letter to their parents explaining "why you are an artist, what you make and what your work is about." Utter's letter to his own parents read as follows:
"Dear Mom and, comfortably mowing grass in heaven, Dad,
I am writing to tell you that after many years of thinking it over I have decided to be an artist.
You see I just wasn't finding myself in the sea of disability that I have spent so many years in.
I assumed I would always live here mainly because there was such a rigid box around me. I always keep a smile on my face to let you know how happy I am in general but now that people know from my movie that I am intelligent I need and want to ride my ship to shore to meet other minds. I can do that best with my words.
I am interested in having some astute people guide me as I am getting a late start as a post modern writer. My good supporter of communication is a good knower of many great people including Jonathan Berger. I will be sharing this letter with a class of his and I shall see theirs. After we discuss them I will hear thoughts about a first draft of a new piece I am working on.
The work I hope to be most known for is going to be something about love and its power.
I am patient when it comes to long projects and I so very much wish you will see it Mom as it will make you happy.
I also want to say that I am interested in projects that allow people to see how more similar we are than different. I am not a social scientist but I am very perceptive and have good fun describing what I see in a creative way.
I am thankful for all you have done for your kooky, Dear Mom.
Dad, I forgive you for being a jerk so much of the time.

Fondly,
Your son Mark

NYU professor Jonathan Berger, who had invited Utter and Anderson to present to his students and answer their questions, later described the event as "mind blowing."
"In seven years of teaching college, I honestly can't remember the last time I brought a guest to class who had this kind of overwhelming response from ALL of the students," Berger wrote, in a thank-you letter to Anderson.
Anderson, who's been doing similar work for clients at Washington County Mental Health Services, explains that the success of Utter's film has sparked the creative juices of other Vermonters with cognitive difficulties. "As soon as I showed up at Washington County Mental Health, I had all these guys say, 'Um, Emily? I have this project I'd like to work on,'" she says.
Over the next month, Utter plans to set aside time to write every day — assuming, that is, he can find people other than Anderson to assist with his supported typing.
"That's Mark's biggest struggle," she says, "having a core of people who are really solid communicating with him."
On Thursday, May 1, Awareness Theater will present "Dance on Film," featuring Jeffrey Ruoff's
Still Moving: Pilobolus at Forty
and three award-winning films on dance by and about Vermont artists. Reception: 6 p.m., Main Street Landing Film House; Dance on Film program: 7 p.m. Suggested donation: $5-25. Proceeds from this event will assist Awareness Theater in promoting Mark Utter's film,
I Am in Here.