Courtesy of James Kochalka
The cartoonist as a young man
For fans who can't get enough of
James Kochalka
, here's another opportunity to indulge yourself. On a site called Dear Teen Me — on which authors write letters to their teenage selves — the Burlington-based cartoonist has
done just that
. Not only that, but he includes a heartthrob photo of himself with hair!
The letter reveals what we already know, namely, that Kochalka has a lot of self-confidence. But it's interesting to note how he convinces himself — retroactively — to just let himself rip. Or, as we boomers used to say, to let his freak flag fly. A psychiatrist might read more into his mental self-psyching, but I think lines such as "Please, please remember to always let your ridiculous side shine through" (mission accomplished!) speak for themselves.
Kochalka, now 46, has mastered the art of keeping his inner child intact while having enough grown-up savvy to successfully create and market his cartoons in print, on the web, in comic books, TV shows, games and several series of children's books. To say nothing of his
James Kochalka Superstar
music career (see YouTube for any number of music vids).
Speaking of books, Kochalka's latest,
The Glorkian Warrior Delivers a Pizza
, is out now on First Second. As he notes, after a career in indie comics, this is his first book with a traditional publisher. He's also created a game called
Glorkian Warrior: The Trials of Glork
.
For the record, Kochalka also contributes a weekly cartoon to
Seven Days
— the current series is "Elf Cat." But since you're reading a
Seven Days
blog, you probably already knew that. And I'd be remiss not to note that Kochalka was the first-ever Cartoonist Laureate of Vermont — a title he recently relinquished, after a three-year term, to Brookfield-based
New Yorker
cartoonist
Ed Koren
.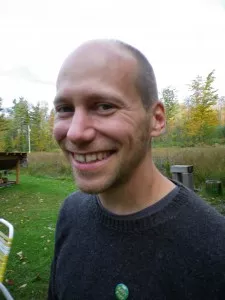 Courtesy of James Kochalka
Grown-up James
With apologies to Kochalka, I'm excerpting his excellent ode to silliness on Dear Teen Me:
"A silly man's life doesn't have any less meaning than a serious man's life. Both have the same struggles, the same sorts of hurdles to overcome, the same sorts of joys and failures and triumphs. Falling in love, sickness, growing up and trying to find your way in the world, parenthood, the death of loved ones, whatever… these things are pretty universal to both the silly and the serious.
"Silliness can lighten the load of the gravity of life, while the gravity of life lends density and depth to expressions of silliness. Your silliness will be informed by the depth of your humanity. I'm not even sure you could even prevent it from happening if you wished. But your seriousness will not be shaped by the depth of your silliness unless you allow it to be so."
Let that be a lesson to you, kids. Especially if you're planning to be, you know, a cartoonist or something.
Kochalka launches
The Glorkian Warrior Delivers a Pizza
this Saturday, March 29, 2 p.m., at Phoenix Books Burlington.