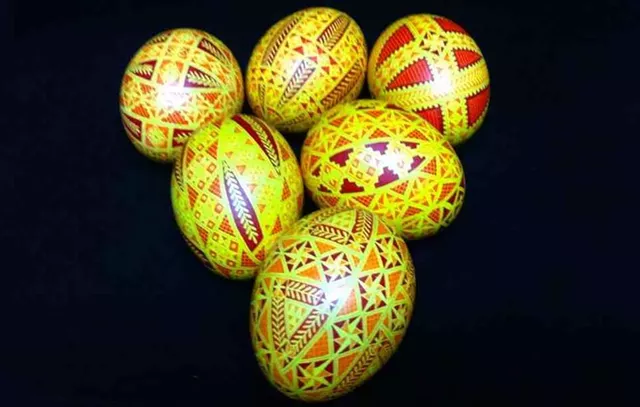 Courtesy of Theresa Somerset
Traditional Ukrainian-style painted eggs
Ukraine is much in the news these days for its conflict with Russia. But at Frog Hollow State Craft Center in Burlington this weekend, the focus is not on geopolitics but eggs — that is, the Ukrainian craft of painting eggs called psyanky.
Theresa Somerset isn't Ukrainian, but the Essex Junction-based artisan has become known for the intricate works of art she produces by etching tiny, detailed wax designs on eggshells. Pysanky eggs were originally created to pay tribute to pre-Christian sun deities in Eastern Europe; traditionally made in the spring, they were offerings for fertility and rebirth. The craft was kept alive through the centuries and eventually became associated with the Christian belief in the resurrection of Christ — in other words, Easter eggs.
Somerset has been making pysanky eggs, with traditional and nontraditional designs, since 2000. She sometimes incorporates them into her paintings, as well. For nearly a decade, she's been giving demonstrations and teaching workshops, and these have become an annual favorite at Frog Hollow.
"I usually bring some traditional designs, which is what most people that know pysanky will expect to see," Somerset says. "Then I bring what I like to do, which might be a mix of traditional and nontraditional, what I call my art eggs."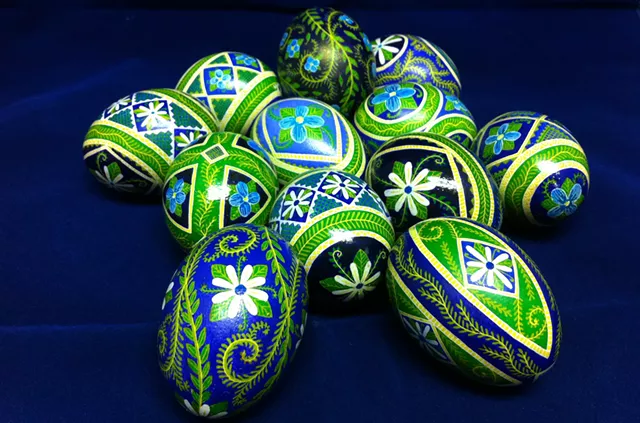 Courtesy of Theresa Somerset
Somerset's pysanky eggs with nontraditional daisy design
This year, Somerset will be at Frog Hollow on Saturday, March 29, from noon to 2 p.m., and on Sunday, April 13, from noon to 2 p.m.
Seven Days
caught up with her just before her busiest season to talk eggs.
SEVEN DAYS: What was your original relationship to Ukrainian pysanky?
THERESA SOMERSET: You know, this is not my heritage! I am not Ukrainian. But I love the art of Ppysanky … I have been mesmerized by Ukrainian eggs since I was very young, I first saw them in a
National Geographic
. I still have the magazine in my house! I want to say it's from 1975. I was in awe of how somebody could get such an incredible amount of detail on such a small object. It had always been on my mind to try it some day.
Courtesy of Theresa Somerset
More nontraditional painted eggs
SD: When did you first try it out?
TS: It was around the year 2000. We had had a [pysanky] kit for the longest time. My mother had purchased one when I was 10 or so. She'd had someone come into her women's group who was Ukrainian and came in with a kit. It sat unopened for I don't know how many years, and in my thirties I finally gave myself permission to open it and try my own. I was encouraged by the owner of Artists' Mediums [the Williston store where Somerset works part time]. We wanted to order kits for the store and have someone who could demonstrate.
SD: What goes into the creation of a pysanky egg?
TS: It's not necessarily painting on an egg. It's a wax-resist batik method. You lay down a wax line and then dye around [it.] Anything waxed over is saved. It is drawing, but it's using different tools to do that. There are all types of decorative eggs out of there. The batik-resist is just one type of egg decorating. There are Fabergé; there are panoramic eggs; there are carved eggs.

SD: What do you think the appeal of decorating eggs is? It definitely spans time periods and cultures.
TS: I think it's something very unique and beautiful, when you can take one of nature's most clever containers and transform it to something beyond its utilitarian purpose. And it is a very inexpensive canvas! And you don't feel too bad if you make a mistake, there's always the next one in line that's waiting. And every mistake brings you closer to a design that you can use. There is no lost time and no lost effort.

SD: What's the largest number of eggs you've discarded before you achieved the design you wanted?
TS: I'm a very tenacious person! I'm also very stubborn. If I make something that's going to take a lot of time, I'm very reticent to give it up midway. … I don't like to abandon projects, whether it's an egg or a painting. I will work through that problem! Otherwise it
is
a waste of time, if you don't go back and learn from it.
SD: Why do you think this particular art form appeals to you?
TS: I am definitely a detail-oriented person. I am a problem solver, so, for me, getting a design onto an object is a lot of fun. I have a graphic-arts background and I do watercolors. The way the [white wax patterns on the] eggs are done, it's very similar to watercolor. You're saving whites.
SD: What do you remember about the first time you made a pysanka?
TS: Well, I'm a practicing artist and I study graphic design, so drawing the picture wasn't the problem — it actually was using a new tool, and figuring out how that new tool works with what you want to say. That was more difficult. The first egg I ever waxed, I hurried up. I drew the design, I waxed the egg and realized I hadn't set up my dyes! I heated the hot water, added dye and and vinegar, and I threw the egg into dye, not realizing that it hadn't cooled.
The wax melted off. The egg was ruined and the dye was ruined! I pass that story and many others along [to students.] You will make mistakes; that's OK, that's how you learn.
Courtesy of Theresa Somerset
Somerset draws a geometric design on an egg.