Courtesy of Molly Ringwald
Taking a break from her performance schedule, jazz chanteuse Molly Ringwald, who will perform in Stowe this Saturday, took a moment for an interview with
Seven Days
.
Yep, you read that right.
Molly Ringwald
, erstwhile pouty teenage muse of the late film director
John Hughes
, has
reinvented herself as a jazz singer
.
Ringwald, 46, has performed as both an actor and a singer since she was a young girl — and has sung on both stage and recordings on numerous occasions — so this should come as no surprise.
Still, though her singing voice is clearly not that of a teenage girl, when you hear Ringwald sing standards such as "I'll Take Romance" or "The Very Thought of You," it's hard not to think of her iconic movie performances. But even I, who had a pretty major crush on Ringwald at one point in my life, am willing to accept that artists need not confine themselves to one form of expression. If Molly Ringwald wants to sing, I will listen.
Now performing with a four-piece jazz band (sax, piano, drums and bass), Ringwald will exercise her vocal cords at the
Spruce Peak Performing Arts Center
in Stowe on Saturday, March 29.
On her album
Except Sometimes
, Ringwald mostly sticks to the songs of the Great American Songbook, though the track listing also includes a tune that evokes one of her most famous film performances.
Except Sometimes
' final cut is Ringwald's cover of "Don't You Forget About Me," the
Simple Minds
song that plays so triumphantly under the closing credits of
The Breakfast Club
. Her presence in that film, among others, assured Ringwald's membership in
"the Brat Pack"
and cemented her association with teen-themed movies of the 1980s. Never mind that her acting career is far more varied.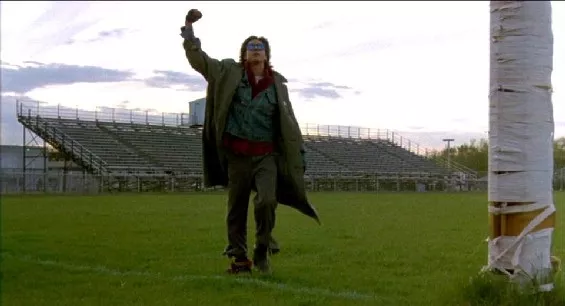 Final scene in The Breakfast Club
Via email, Molly Ringwald answered questions about this new phase of her career.
Seven Days: I imagine that many people have responded to your current project along the lines of: "OMG, this famous actress is singing!" but to me these two skills have a lot in common. Creative expression through performance is something that can take many forms. Actors and actresses have always sung! Does that resonate with you?

Molly Ringwald: I don't know if
all
actresses sing, but I always have. In fact, I sang before I acted, because my father is a jazz musician and I performed with his band from the time I was 3 years old. Every creative endeavor does seem connected. I use my acting ability when I sing a song (ballad especially); I write in a musical way ... So, yes, this does resonate with me.
SD: What attracts you to these particular songs?

MR: These are songs that (for the most part) I grew up loving. The final choice of what ended up on the album had a lot to do with how well the songs sounded with the whole band.
SD: How did you assemble the band?

MR: [Album producer and pianist] Peter [Smith] and I started working together in '08. He brought in the other musicians not long after thinking (correctly) that I would like the way they play, and we also hit it off personally. Since the music is something that I pursue because it is enjoyable for me, I put a high premium on only working with people I really like.
SD: Do you have any acting projects in the works, or does your singing — at least for the time being — take up all of your creative time and energy?

MR: I still act, write and do music. I have some acting projects in development and am currently working on a second novel.
SD: I have read that you cover "Don't You Forget about Me" as a tribute to the late John Hughes, but it's hard not to see it as a little cheeky. Tell me about your decision to cover a song that's so strongly associated with your iconic movie roles.

MR: I started imagining singing the song not long after I heard about John's passing. He was in my thoughts a great deal. Peter came up with the beautiful chords, and it seemed like an interesting way to reimagine a song that is very associated with me and my past, but is also a sort of bridge from the past to the present. I have always had an affinity for covers that sound completely different from the original, otherwise ... What's the point?
SD: For you, what are the parallels or similarities between singing and acting?

MR: They both involve an element of performing, which is the biggest similarity (as opposed to writing, which is very solitary and doesn't involve any sort of audience participation at all). As I said in the first question, I feel that I approach the songs as an actor in that I very often ask the same questions (i.e., Who is singing this? To whom? What is the story?). Of course, sometimes I'm just caught up in the joy of the music and my incredible musicians and think about nothing at all. It all depends...
Courtesy of Molly Ringwald
The chanteuse with her band

Molly Ringwald performs at the Spruce Peak Performing Arts Center, Saturday, March 29, at 7:30 p.m. $20-69.