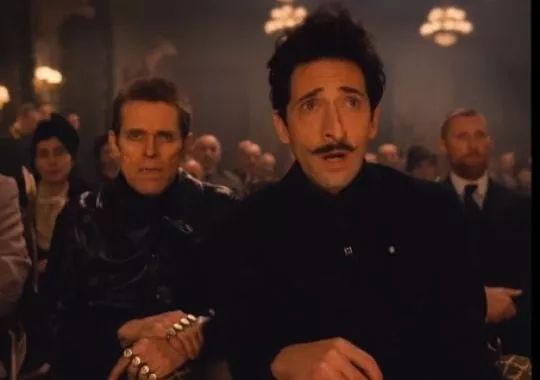 Willem Dafoe and Adrien Brody in Wes Anderson's The Grand Budapest Hotel
For nine consecutive Sundays beginning on March 30, the Dartmouth Film Society will present "
The Life Cinematic
," a full retrospective of the films of American filmmaker
Wes Anderson
. The series runs through May 25 with a screening of Anderson's star-studded new film,
The Grand Budapest Hotel
.
One of the most stylistically distinctive of all current American directors, Anderson has built his reputation on the excellent performances he extracts from his remarkable casts, and on his oddball sensibility.
The Grand Budapest Hotel
, in which Bill Murray's remarkable facial hair takes top billing, has received stellar advance notices.
The series presents Anderson's films in chronological order, beginning with his first feature,
Bottle Rocket
(1996), and including such audience favorites as
Rushmore
on April 6 and
The Life Aquatic with Steve Zissou
on April 27.
Interspersed into the Anderson series are two cinematic masterpieces that present stories of World War I: King Vidor's
The Big Parade
and Jean Renoir's
La Grande Illusion
, on April 17 and May 20, respectively. Though they have nothing to do with Wes Anderson, these films are part of a ticket-pass package that patrons may purchase from the film society.
Anderson's filmography may not be gigantic (though it does include a number of short films not presented in this particular series), but it is quite rich, and rewards viewers who take the time to dive into it .This series provides just such an opportunity.
Bill Murray and Jason Schwartzmann in Rushmore