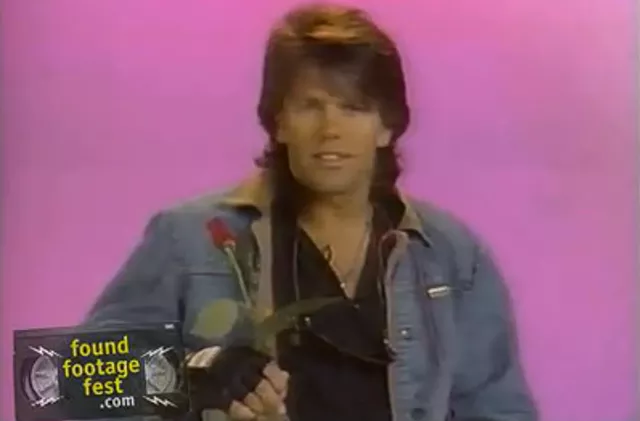 Now in its tenth year, the
Found Footage Film Festival
is more than just an annual showcase of the oddest oddities of America's VHS heritage. It's also a kind of educational program. In this year's show, which comes to Higher Ground in South Burlington on Sunday, March 23, viewers will learn, among other valuable life skills, How to Have Cybersex on the Internet.
A video with exactly that curiously redundant title, produced by a Minneapolis video house in 1997, is one of the highlights of this year's fest, says co-host and co-curator Nick Prueher. Prueher and his fellow host/curator Joe Pickett, both 38, travel the country every year, scouring thrift store and garage sales for videotaped ephemera that would otherwise never see the light of day.
How to Have Cybersex on the Internet
, Prueher says, has a unique appeal. "It's too sexy to be informational, but not sexy enough to be titillated by," he says. "Why does it even exist? What are we watching here?"
The traveling show presents a combination of screenings of unintentionally hilarious videos, a recounting of the stories behind them and a number of comedy bits inspired by them. Prueher and Pickett both have serious comedy chops: They've written, respectively, for "The Late Show with David Letterman" and
The Onion
, among other outlets.
Prueher, speaking by phone from New York City, sounds both proud and surprised by the fact that his and Pickett's festival of strange videos has become a central part of the "found materials" movement that has also manifested itself in such venues as
Found
magazine and innumerable craft projects on
Pinterest
and
Instructables
. "We grew up in small towns and had to make our own fun, so you look at the stuff around you and make something of that," he says. "We spent a lot of time in thrift stores in Wisconsin."
)
Though the festival has now grown into an international phenomenon — the two curators recently completed a tour of Europe in which they both presented and collected obscure videos — Prueher, for one, finds that many of the videos they show embody a uniquely American quality. "One thing we found about a lot of the footage that we're drawn to," he says, "is that people had a lot of ambition, even if their talent was questionable. That's one of our exports, and it's true about us as a people."
When the pickings are irresistible, the festival does occasionally curate DVDs: Prueher mentions a DVD they found in Memphis called
Sing Like the King
, an instructional video for Elvis impersonators. But it's VHS, for all its analog-era imperfections, that holds the real allure for these curators. "VHS is the bastard stepchild," Prueher says. "It's an ugly, clunky format, but that doesn't make the footage any less worth hanging onto."
Though they've sometimes proven to have a shelf life longer than originally predicted, VHS tapes do decay, a fact that lends a sense of urgency to the Found Footage Film Festival's mission. As well, Prueher notes, he and Pickett were startled to learn recently that many thrift stores no longer even accept the tapes as donations, since they simply don't sell. That's one of the reasons anyone attending the festival is encouraged to bring their own video oddities as submissions for future screenings.
Though they've long made their own comedic videos (which often carefully recreate the no-budget aesthetic of many of their found treasures), the festival curators recently released a video of a different kind. Bored over a long holiday in their native Wisconsin, they dreamed up a way to game local morning shows: Prueher would masquerade as a chef who specialized in turning leftovers into creative new meals.
As the author of the nonexistent book
Making a Winner of Last Night's Dinner
, Prueher appeared on numerous talk shows, earnestly instructing viewers on how to make such horrific concoctions as mashed-potato-and-corn ice cream cones and blended ham shakes. Even when he straight-facedly namechecked the late shock-punk rock star
GG Allin
as his culinary inspiration, no one caught on to the stunt. "Nobody questioned it at all," Prueher says. "Bless their hearts, they just kind of plowed forward. I'm surprised at how much we were able to get away with." See for yourselves below:
Even as the compilation video of these stunts (which quickly went viral) represents a different kind of comedy than the found films themselves, the humor it embodies "has always been a part of the show," Prueher says. "We know what the recipe is for weird, awkward footage; we know all the elements of the uncomfortable. We used some of that knowledge for this material."
Reiterating that anyone who creates anything draws inspiration from whatever surrounds them, Prueher says that, for him and for Pickett, it's the seemingly endless supply of oddball videos "that brings us so much joy."
The Found Footage Film Festival, Sunday, March 23, 8 p.m., Higher Ground, South Burlington. $12. highergroundmusic.com / foundfootagefest.com