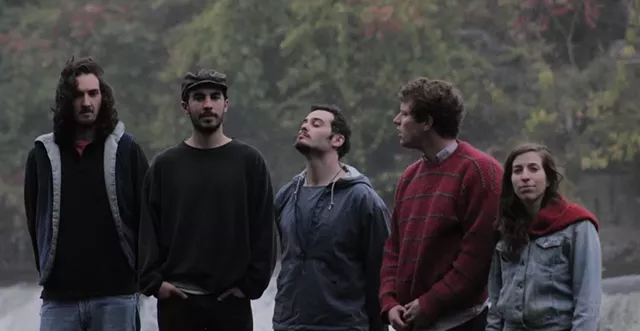 Last week, local rock trio Swale captured the bleak but beautiful expanse that is winter in Vermont with
their new video, "Joyless."
Continuing that seasonally effective theme, today, local indie-folk quintet
Alpenglow
unveiled a new video of their own, "Catskills," from their 2013 EP
Solitude
. Like Swale's midwinter opus, it's pretty freakin' Vermonty. The difference is that Alpenglow take advantage of perhaps an even more quintessentially Vermont season: fall.
Shot live at
Windfall Orchards
in Corinth, Vt., the video features the band playing amid the autumnal splendor of gently rolling mountains, rusty, rustling leaves dappled by warm, late-day sun and bearded dudes drinking microbrews in T-shirts. Honestly, it's enough to make us want to flash the calendar ahead to October and skip spring and summer altogether. Well, maybe not. But it's still a great video for an even better song. Enjoy.