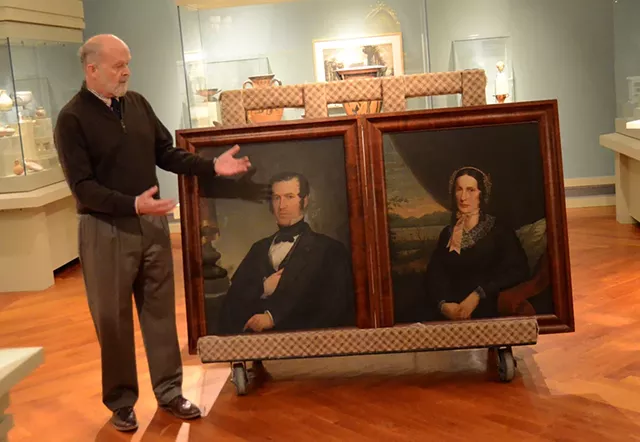 Courtesy of Keren and Matt Lennon/Middlebury College
Museum director Richard Saunders unveils portraits of Henry Bliss and Electa Northup.
Just in time for Oscar weekend, Middlebury College
announced
yesterday that it has historical ties to one of the two friendly white men portrayed in
12 Years a Slave
(though not the Canadian abolitionist played by Brad Pitt.)
Nominated for nine Oscars and considered the favorite to win Best Picture,
12 Years a Slave
is based on the true story of Soloman Northup, a freeman living in upstate New York who is captured and illegally sold into slavery in Louisiana. In the movie, Northup is rescued by a character named "Parker," a white shopkeeper who was Northup's friend and neighbor in the Saratoga Springs area.
In reality, the college says, Soloman Northup was rescued by a fellow named Henry Bliss Northup — a "prominent upstate attorney" and member of the Middlebury College Class of 1829, on whom the character of "Parker" is based.
The college's museum recently acquired two 36-by-28-inch oil portraits to commemorate the connection: one of H.B. Northup and one of his wife, Electa.
Those paintings were unveiled last Tuesday at a reception that also featured remarks from professor of history Bill Hart, who researched Northup's backstory. The college writes:
Henry Bliss Northup sought a life in politics and it was those aspirations, Hart theorized, that delayed his journey to Louisiana in 1852 (with legal documents in hand) to free the man who had been kidnapped and sold into slavery. In August 1852 Solomon Northup managed to send letters to friends in the Saratoga Springs area beseeching them for help. We know the letters came to Henry Northup's attention in September, Hart said, but the Middlebury graduate was busy running for the U.S. Senate that autumn. He eventually lost the race and set off for Louisiana in December 1852 to prove that Solomon Northup was a free man.
Hart speculated that film director Steve McQueen may have omitted H.B. Northup from the movie narrative because he had the same last name as the story's African American protagonist — a potential source of audience confusion. (And yes, H.B. and Soloman had the same last name because parts of H.B.'s family had once owned parts of Soloman's, albeit decades before either man was born.)
"I think the director was probably afraid that it might confuse the audience," Hart says. "If the rescuer had the same last name as Solomon did, then viewers might think that Solomon's master had come to secure him, which we know was not the case."
As for the oil paintings, the college has sent them to the Williamstown Art Conservation Center to be cleaned and restored. Museum director Richard Saunders says the paintings are "in need of conservation" and that normally the college "would not show paintings in this condition to the public." Middlebury made an exception last Tuesday to roll out the portraits before Oscar night. While the paintings are being cleaned up, the museum will try to determine the painter; staff are guessing it's Edward Ames, a popular 19th-century Albany-area portrait painter.
In the meantime, Middlebury just gave its alums a reason to be proud if
12 Years a Slave
sweeps on Oscar night. (And five bucks says
Middlebury Magazine
starts soliciting Oscar-night party pics with a Midd banner in the foreground.)