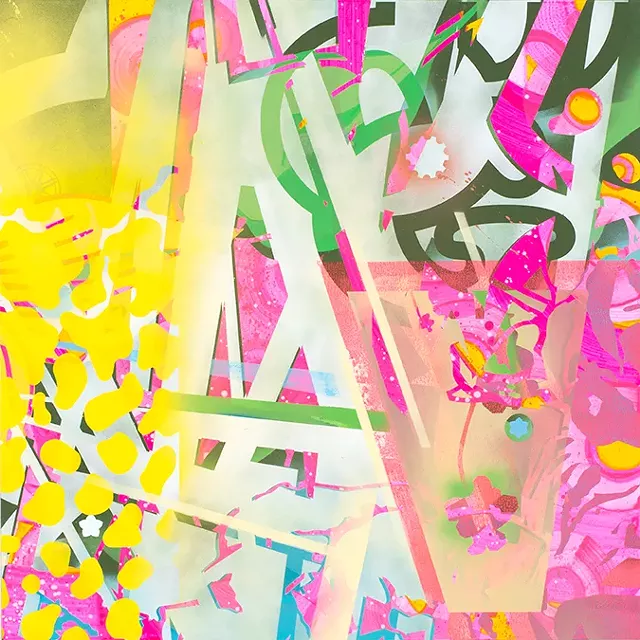 Courtesy of Scott Campbell
"A-Dog for Life — Homage" by Jay Giroux and Scott Campbell, detail
Last September, attendees at Burlington's South End Art Hop may have happened upon the painting, by Jay T. Giroux and Scott Campbell, on the side of a building adjacent to
Black Horse Fine Art Supply
on Pine Street. In fact, Giroux was still working on the multimedia, vividly colored abstraction, which has a decidedly urban look and is titled "A-Dog for Life — Homage." The painting, in six, 36-inch-square panels, was to be auctioned as a benefit for the artists' friend, DJ A-Dog, to help him defray medical expenses.
Tragically, A-Dog, aka Andy Williams, succumbed to leukemia in late December. And that painting, which did not sell in September, is now being used to call attention to a campaign in A-Dog's honor. The campaign is to raise awareness of the need for bone-marrow donors to help individuals with this disease — and to register actual donors.
Dealer.com
is the first Burlington business to enlist this traveling piece of artwork as a visual mascot, as it were, for Be the Match. The donor drive begins today, February 27, outside Dealer's Café 2.0.
Signing up doesn't mean that you will be a match for a person in need, simply that you are a potential one. Here's how Jill Badolato of Dealer describes the registry:
A consent form is filled out consisting of basic contact information, alternate contact information and some medical evaluation questions. A cheek swab sample is then given from the inside of the mouth. From the cheek swab samples, a lab performs HLA typing and the donor's HLA typing is posted on the Be the Match Registry.
Badolato says every person who registers at Dealer (which is waiving the usual entry fee of $50) will receive a small facsimile of the painting. Can't get down there? You can also register with
Be the Match online
when asked for a promo code, enter DEALER. A cheek-swab kit will be mailed to you. The online registry with Dealer.com extends through March 5.
"Homage" will be made available to any other local business that would like to display it and register potential bone-marrow donors. The project is spearheaded by John Bates, owner of Black Horse. He can be reached at 802-860-4972.