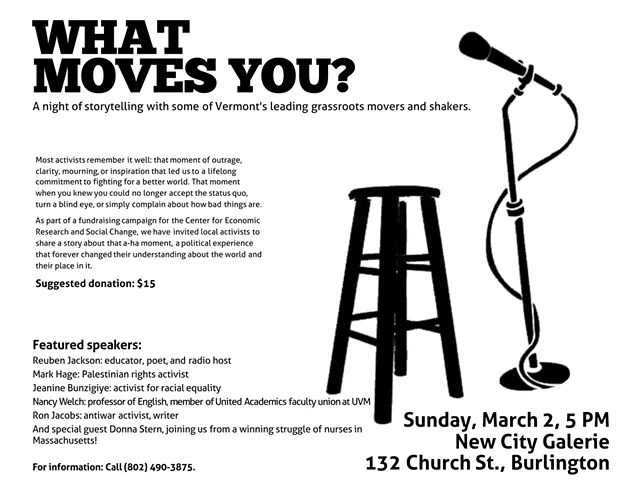 Steve Ramey
The poster for Sunday night's 'What Moves You?' event.
If you ask Steve Ramey, of the Vermont branch of the International Socialist Organization, folks who identify as activists tend to have an inspiring story or two up their sleeves.
"Most activists remember it well," Ramey writes. "That moment of outrage, clarity, mourning, or inspiration that led us to a lifelong commitment to fighting for a better world. That moment when you knew you could no longer accept the status quo, turn a blind eye, or simply complain about how bad things are."
Inspired by National Public Radio's "The Moth" storytelling series, a crew of grassroots activists will host a night of storytelling called "What Moves You?" on Sunday, March 2. The group of featured speakers — what Ramey calls "local movers and shakers" — includes Reuben Jackson (Vermont Public Radio's jazz host), Mark Hage, Jeanine Bunzigiye, Nancy Welch, and Ron Jacobs. They will share stories of the events that first prompted them to take action, and invite others to do the same.
"We're hoping this will be a step in the right direction towards a more united grassroots activist community in Burlington, learning about how we all got involved in a life of struggle and to support each other's' efforts going forward," says Ramey.
Vermont ISO organized the gathering. Ramey says that, despite its kind of heavy-sounding theme, it's meant to be a casual opportunity for activists or passionate people, regardless of affiliation, to "get together, drink some beer and tell some stories."
"What Moves You?" Sunday, March 2, 5 p.m., at the
New City Galerie
in Burlington. $15 suggested donation to benefit the Center for Economic Research and Social Change.