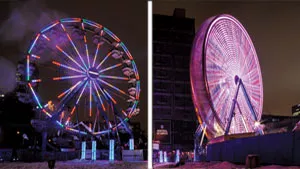 Courtesy of Montreal en Lumiere
Air France Ferris wheel
I had intended to drive northward today for a taste of the mega-event called
Montréal en Lumière
But,
dommage
, both of my traveling companions begged off. And since I didn't want to go alone, this is what I am missing. A gigantic Ferris wheel, right in the middle of St. Catherine Street.
I have an inexplicable love of Ferris wheels. The one pictured here, courtesy of Air France, only looks this way at night, of course. But day or night, what a great view from its top! Well, maybe later this week.
Montréal en Lumière offers
way
more than a colorful carnival ride, to be sure. There's also something called an "interactive urban super-slide," and scattered around the Place des Festivals are promised "wow" moments from various special effects, including a "cube" that uses lasers, smoke and lighting to produce "multidimensional" hallucinations. Or something like that. I'm wowed just thinking about it. Three-story projections and other light-related stimuli justify the festival's name — and these are all part of the free outdoor site.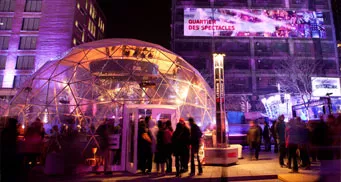 Courtesy of Montreal en Lumiere
Sphère Provigo
There is also a dizzying array of food options, and I planned to take full advantage of them. The Haiti headquarters hold particular appeal for me, but there are loads of vendors of the gourmet, street-food and alcoholic variety, not to mention dinners created by celebrity chefs. Then there's the Sphère Provigo de Marché (right), just off the Place des Arts Esplanade. Think geodesic temple of sweets — cupcakes, macarons, chocolate, juice bars, etc. Damn.
The fest includes dozens of musical acts, many but not all of them Canadian talent. From classical to "caliente" to French chansons, opera and rock, the organizers seem to truly want to entertain
everyone
. Yep, families with little ones, too.
While they're not the only American band on tap, good old classic-pop rockers Chicago opened the fest last Tuesday. Go figure. If you're interested to see who else is playing, and where, the event's website is comprehensive, incredibly well organized, and in English as well as French. Parking and hotel options are clearly spelled out.
The Nuit Blanche, or White Night, wraps up the festival on Saturday, March 1. Actually, it's an overnighter, with some 200 activities, shows and other spectacles all over the city. If you're a night owl, this is the time to go. Though it sounds overwhelming, you can try to manage your own itinerary with the festival's downloadable mobile app. There's a free shuttle, too, and the métro stays open all night long. In fact, some of the adventures are underground — including some eye-popping art installations.
Finally,
click on this link
to watch a very cool video that excerpts scenes and performances from all 15 years of the festival's existence. If it doesn't make you want to stay up all night, I don't know what will.
Do report back if you go.