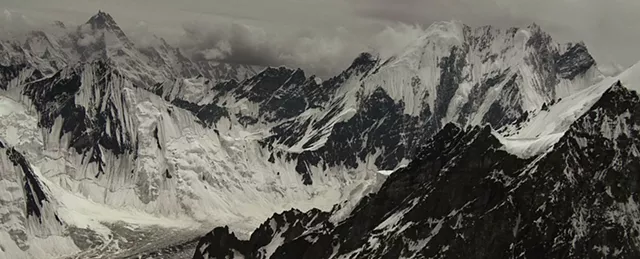 This week in movies you missed
: We learn why climbing K2 is probably not a great idea.
What You Missed
In early August 2008,
11 climbers died on K2
— the world's second-highest mountain — in 48 hours. News of one of the world's worst mountaineering disasters quickly traveled around the globe, prompting a lot of tut-tutting about inexperienced climbers with "summit fever." But what really happened up there?
Director Nick Ryan interviewed the surviving climbers (those who agreed to talk) and pieced together a narrative. In this documentary, honored last year at Sundance, he tells the story through interviews, reenactments with actors and footage shot by the climbers on the mountain.
We learn that crowding was one major reason for the fatalities. Several groups had reached Camp IV simultaneously, and all hoped to summit K2 on August 1. When a Serbian climber fell to his death in the "bottleneck" — a single-file passage beneath a looming serac — progress slowed even more. Many climbers reached the summit at or after sunset, leaving them to descend in darkness.
And descending, as any aficionado of climbing tales knows, is the most dangerous part. They don't call the portion of the mountain above 7,500 meters the "death zone" for nothing. Add oxygen deficiency to a random mishap like a snapped rope, and you're in trouble.
Why You Missed It
You may have caught
The Summit
at last fall's Vermont International Film Festival. It's now on Netflix Instant.
Should You Keep Missing It?
Some people see the description of a movie like
The Summit
and say, "What the hell do I care about people who would go out and do something that insane?" They're likely to have the exact same reaction to
All Is Lost
,
Grizzly Man
,
Into Thin Air
and pretty much any film or book about someone doing something incredibly dangerous outdoors.
They have a point. As the film reminds us, one out of four climbers who attempt K2 die there. The 2008 incident was unprecedented for the number of fatalities. But, as Ryan's interviews with the elderly Italian who went up with the first successful K2 expedition reveal, death in the death zone is nothing new.
Me, when I hear about an outdoor-disaster story, I'm all over it. I've even been known to watch the tedious docudrama show "I Shouldn't Be Alive" for a fix of cheesy reenactments in which actors moan about frostbite.
Here's how
The Summit
scores on my metrics of what makes such movies worth watching:
1. Narrative pull: good.
Ryan and writer Mark Monroe have structured the film to start at a high point — climbers waking at Camp IV, eager to attack the summit, only to watch a man tumble to his death. Then they backtrack to show us how friction among the various groups built since base camp. The movie operates on the same principle as "I Shouldn't Be Alive": We're waiting to find out who died when. (Each casualty is commemorated with a still photo and moment of silence.) It's not the classiest approach, perhaps, but it works.
2. Creep factor: high.
Here's what I like most about outdoor disaster stories: They remind you that, even in our connected world, there are places where nobody can rescue you. There are places where nature will kick your butt. There are places where it may not even be feasible to retrieve your
body
(K2, a cave, the stomach of a grizzly bear).
What's even creepier about mountains is that you can make a satellite phone call to your loved ones from the summit and, hours later, die without your companions even being able to agree on what happened to you. Moments like that remind us that technology has its limits.
3. Indelible characters: medium.
Many people of various nationalities are interviewed in
The Summit
, and it's not always easy to keep track of them. If the film has a focus, it's Irishman Ger McDonnell and his Sherpa friend, Pemba Gyalje. (One made it out; the other didn't.) But several others make strong impacts, including the sole (it appears) female climber, Cecilie Skog. We learn that some climbers see rescuing the injured as a priority, while others freely admit that it's every man for himself near the summit.
4. Scenery: good.
Parts of the climbing action were reenacted with actors in Switzerland, which makes me wonder how much of the footage is actually K2. (
Here's an interview with Ryan that addresses that aspect.
) But Ryan seems to have used a good deal from the climbers' cameras, including stunning panoramas of sunset from the summit.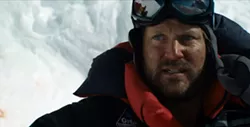 5. Philosophical maunderings and such: occasional.
This isn't a Werner Herzog doc or
Touching the Void
(in which a climber describes in harrowing detail how his near-death experience affected him). But the interviews do suggest, as a whole, that "summit fever" is real. The closer climbers get to the goal, the more willing they are to sacrifice everything for those last few hundred feet — including others' lives and, occasionally, their own. (You don't have to climb mountains to relate to this tunnel-vision phenomenon.)
Yet
The Summit
reveals that turning back isn't always the answer, either. Once you're that high, absolutely nothing can guarantee your return.
Verdict:
the perfect movie to watch while ensconced safely at home and vowing you would never do anything that dangerous ... or would you?
This Week in Theaters
Let's take a trip to ancient
Pompeii
and watch the volcano erupt! Secret Service agent Kevin Costner must save his own life and reconnect with his teenage daughter in
3 Days to Kill
. Which task will be harder?
At the Roxy and Savoy, an older woman searches for love in the acclaimed Chilean drama
Gloria
. Only at the Roxy, Elizabeth Olsen plays Zola's Thérèse Raquin in the period piece
In Secret
.
Find movie descriptions and updated showtimes here.

This Week on Video
Nothing much
. Personally, I'm watching season 3 of "The Killing" and season 1 of "Bates Motel." Both "Twin Peaks"-inspired, both highly flawed, but it's nice to pretend you're in the Pacific Northwest as winter drags on.