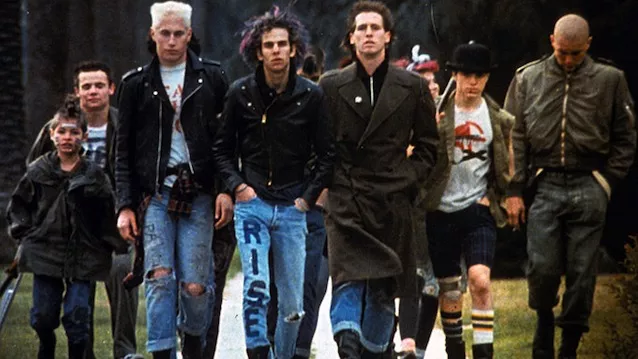 Will your neighborhood be next?

One career ago, I was a professor of film studies. I gave that up to move to Vermont and write for
Seven Days
, but movies will always be my first love. In this feature, published occasionally here on
Live Culture
, I'll write about the films I'm currently watching, and connect them to film history and art.

I have found some unusual DVDs in random places: garage sales, thrift stores (who gives up a copy of
The Way Things Go
?), even at a rural Wisconsin truck stop (where, amidst the Chuck Norris DVDs on the discount rack, there nestled a highly improbable copy of
A Couch in New York
, one of the few quasi-mainstream films by Belgian experimentalist
Chantal Akerman
). I'm always delighted to find a copy of a film in a location that seems completely unrelated to it.
When I found a copy of Penelope Spheeris'
Suburbia
at a stoop sale in Brooklyn about a year ago, I snapped it up for a buck or two. This was a less arbitrary discovery than the Akerman in the truck stop, but it wasn't bad. It's not like
Suburbia
or its director are obscure, but the film isn't discussed much anymoree. And its story is so thoroughly steeped in early-'80s L.A. suburban subcultures that stumbling across it in an East Coast city added somewhat to the improbability of the find.
Suburbia
is Spheeris' first fiction film*; her first feature-length film is the well-regarded and revelatory 1981 documentary
The Decline of Western Civilization
. Both films are about disaffected punk-rock youths in and around L.A., and it seems correct to regard them as "sister" films. Spheeris was fascinated by punk rock, its fans and its culture, and clearly hadn't gotten these subjects "out of her system" with
The Decline of Western Civilization
.
(Indeed, she has returned to that subject twice in her career, making
The Decline of Western Civilization Part II: The Metal Years
in 1988 and
The Decline of Western Civilization Part III
[about L.A. "
gutter punks
"] in 1998.) Perhaps part of Spheeris' motivation for making
Suburbia
was to work through some of her "leftover" ideas about punk culture.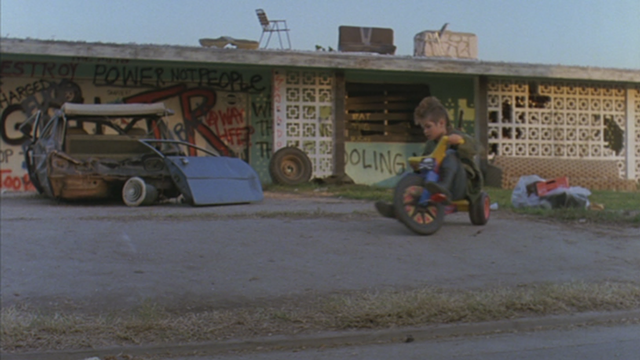 The Decline of Western Civilization
is mostly a concert film, featuring some great live footage of such L.A. punk bands as Germs, Black Flag, Fear and X, one of my favorite bands ever.
Suburbia
also devotes significant time to concert footage of several bands: D.I., the Vandals and T.S.O.L., who give what is by far the film's most compelling performances. I don't know this band very well, but
Suburbia
made me want to dig into their catalog.
Spheeris is probably best known for directing
Wayne's World
, which I've never much cared for, mostly because I don't find it funny
at all
. And many of her other films are fairly undistinguished comedies such as
Black Sheep
,
The Little Rascals
and
The Beverly Hillbillies
— none of which is especially interesting to me, despite the presence of Lily Tomlin and Dolly Parton in the last.
Suburbia
is not great, either, but Spheeris' love for her material is evident, and it makes the film fascinating despite its shortcomings. In true
Rebel Without a Cause
fashion,
Suburbia
's central argument is that the "families" founded by wastrel punk-rock youths are more loving and authentic than the kids' actual families, never mind the ripped pants and the absence of hygiene.
Yep, that's Flea of the Red Hot Chili Peppers, credited in this film as "Mike B. The Flea"
I'm partial to films in which not a lot happens, and
Suburbia
is admirably plotless. That befits the lives of its main characters, who don't do much of anything. They go to rock shows, steal frozen dinners from garage refrigerators and just kind of, like, hang out and stuff. Exactly the kinds of things that, in the film, enrage the "upstanding citizens" of the suburban town where the kids make their home in an abandoned ranch house. The tension between the kids and said citizens hangs in the background for the film's first two thirds, but doesn't really lead to much action.
Then one of the kids, a new addition named Sheila, kills herself by overdosing on pills. Not knowing what else to do, her friends decide to bring her body to her family's home. It's a difficult decision, not only because they loved Sheila but because she had revealed to them that her father had sexually and physically abused her.
The delivery of Sheila's body to her family's home is the turning point of the film, in that it precipitates just about all of the action that follows. As befits the film's most important moment, Spheeris depicts it with the best and most memorable shot (below): the punks standing on the lawn of this suburban house.
It's a sophisticated visual gesture that announces a narrative change, and it makes me wish there were more such shots in the film.
Spheeris is one of the many, many directors who got their starts under the wing of Roger Corman, the single most influential figure in American film in the second half of the 20th century, IMO. Martin Scorsese, Francis Ford Coppola, Joe Dante, John Sayles, Jack Nicholson, Jonathan Demme, Ron Howard and many others got their big breaks from Corman. He had a reputation for allowing significant creative freedom so long as the productions came in under his notoriously low budgets.
It's hard to find budget information for
Suburbia
, but it clearly shares the DIY ethos of much punk music. Most of the actors were nonprofessionals, there are no expensive set pieces, and the action was shot entirely on location — in the very suburbs that the film excoriates as bastions of soullessness.
A number of bigger-budget Hollywood films released around the same time as
Suburbia
— notably Tobe Hooper's terrific
Poltergeist
and Robert Redford's ordinary
Ordinary People
— cash in on the "soulless suburb" trope. But iI think the somewhat overlooked
Suburbia
has a place in that canon.
*A little digging around has revealed some incomplete but tantalizing evidence that Spheeris, as a 23-year-old film student in 1968, directed one feature-length film before she made
The Decline of Western Civilization
. Its provocative title is
Uncle Tom's Fairy Tales: The Movie for Homosexuals
, and starred Richard Pryor in one of his first film roles.
Uncle Tom's
has allegedly been lost … or has it?
According to the internet
, Pryor's wife at the time, Shelley Bonis, was unhappy because Pryor was spending more time working on this film than with her, so she took the logical step of destroying its negative. The uncompleted film was apparently regarded as lost to history.
But in 2005, shortly before Pryor died, the Director's Guild of America staged a tribute to the great comedian, at which scenes from
Uncle Tom's Fairy Tales
were screened for the first time in decades. Pryor's then-wife (his seventh), Jennifer Lee, filed suit against Spheeris and Pryor's daughter, Rain, for having conspired to secure from Pryor's home the only existing copy of the film. From what I can gather, the suit is still pending.
I cannot speak to the accuracy of the above information. But I can say that I would be absolutely thrilled to see the movie. I do know some people at the
Academy of Motion Picture Arts and Sciences Film Archive
, so maybe I'll see if I can pull a string or two…