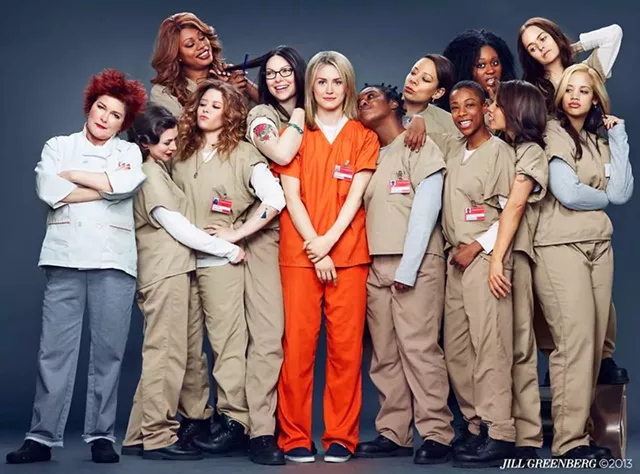 Jill Greenberg
The cast of the Netflix series "Orange Is the New Black," based on Piper Kerman's memoir
Before "Orange Is the New Black"
was a hit Netflix series, it was a critically acclaimed memoir — and before that, Smith College graduate and self-described "nice blond lady" Piper Kerman really did spend 15 months in federal prison on drug-trafficking charges. Kerman now frequently travels the country doing book readings and advocating for prisoners' rights. On March 27, she'll make a stop at the University of Vermont.
For those unfamiliar with the author's backstory, here's a recap: After graduating from college, Kerman stuck around Northampton, Mass., to work at a brewery and became romantically involved with a glamorous older woman, who happened to be trafficking heroin for a West African drug lord. Also self-described as a "well-educated young lady from Boston with a thirst for bohemia," Kerman eventually moved to Bali with her lover and began carrying suitcases of cash across international borders.
After six months of "room service, exoticism and anxiety," Kerman cut all ties with the lover and the life of crime and moved back to the United States to start anew. Years later, when she was in New York working as a television producer and living with her boyfriend (now husband), the cops showed up at her door. Her ex-lover's drug ring had been busted, and she'd been ratted out. After a lengthy legal process — and about a decade after her crimes had been committed — Kerman arrived at the federal women's prison in Danbury, Conn.
That's about where the television show and the memoir start off. Reviewers have characterized the book as most successful when Kerman delves into the lives of those she meets while incarcerated. The Netflix series
has won praise for giving as much screen time to the lives and perspectives of the diverse group of women that Kerman encounters in prison as to her own experience. The book and the show both take a frank look at Kerman's relative privilege and the ways in which it both helped and failed her in prison, where the dynamics of power, race and sexuality are intensified.
Though the show itself is considered well scripted and well acted, the women behind "Orange Is the New Black" have a social agenda as well. The show's creator, Jenji Kohan of "Weeds" fame,
told
National Public Radio last year that Piper was her "Trojan horse" to get American audiences thinking about prison reform:
In a lot of ways, Piper was my Trojan Horse. You're not going to go into a network and sell a show on really fascinating tales of black women, and Latina women, and old women and criminals. But if you take this white girl, this sort of fish out of water, and you follow her in, you can then expand your world and tell all of those other stories. But it's a hard sell to just go in and try to sell those stories initially. The girl next door, the cool blonde, is a very easy access point, and it's relatable for a lot of audiences and a lot of networks looking for a certain demographic. It's useful.

Kerman, too, seems to have embraced an activist's role since the success of the memoir and television show. She currently serves on the board of the Women's Prison Association, regularly speaks with public defenders and justice-reform advocates, and gives talks and readings at colleges and universities around the country, according to her website.
She'll speak at UVM's Dudley H. Davis Center on March 25 at 7 p.m. The event is free and open to the public.