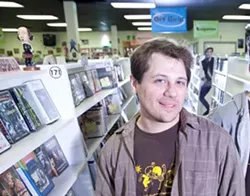 Matt Thorsen file photo
Seth Jarvis in the former Waterfront Video
Actor Aaron Masi strutted onstage clad in a white T-shirt emblazoned with the word "STAG" in black marker, his hands held high to represent antlers. "Hi," he said, and the friendly crowd laughed uproariously.
It was but one scene in a brief directed play, written by Jordan Gullikson and performed at Playmakers last Monday night at the Off Center for the Dramatic Arts in Burlington.
Playmakers was
launched last November
by playwright, actor and former Waterfront Video buyer Seth Jarvis. The monthly evening of live entertainment features new and experienced writers and actors.
Judging from this week's offerings, the works are eclectic, creative and sometimes zany. And that's just what Jarvis is going for.
"The intention behind the series was to offer local artists and writers the chance to ... step out on limbs, and I think that's happened," says Jarvis, who estimates that about a third of the Playmakers participants are newcomers. "People are taking that leap and moving out of their own wheelhouses and trying something new, and the format for the event allows for that," he adds.
The format for each evening is three "cold" readings of short plays (20 pages or shorter, in less than 25 minutes) by local playwrights, followed by one directed play that had been selected from the previous month's readings and produced by two assigned "watchers." The directed play is rehearsed without input from the playwright to allow the piece to evolve in a fresh direction, Jarvis explains.
Monday's lineup featured plays from Erik Esckilsen; Genevra MacPhail and Todd Townsend; and Kimberly Caterino and Kristofer Friore. They treated the audience to scenes such as an Urban Outfitters-clad journalist interviewing a reclusive rock legend; a crotchety old man leading two young guys on the world's most bizarre heist; and an unlikely pair of restaurant diners pontificating on religion. And that was even before the Stag showed up.
Jarvis says he hopes that the series will help individual artists and nurture collaborations of playwrights. This was the first event in which Playmakers showcased works by playwriting duos MacPhail/Townsend and Caterino/Friore. Jarvis hopes the series will also help local theater companies connect with artists for longer projects.
In the coming months Jarvis says he'll be expanding the Playmakers programming with some extra events. In May, Playmakers will attempt a screenwriters' edition, and selected script will be made into a short film. June will bring a "Short Shorts" event in which anyone can come with a play shorter than five pages and present a cold reading.
The next Playmakers event is Monday, March 17, and will feature Tonya Pellegrino, Lesley Becker and Kevin Christopher with Patricia Julien. Tracey Girdich and Alex Dostie will present a directed reading of Erik Esckilsen's heist play from last Monday's event.