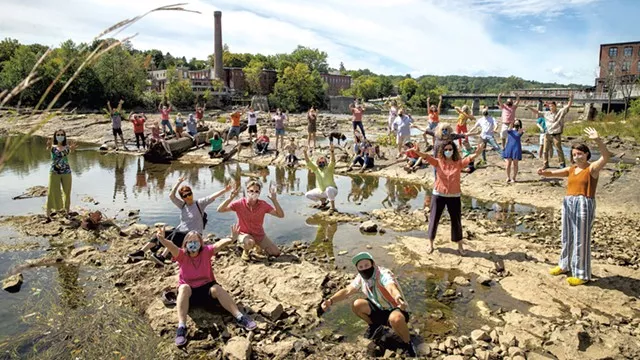 Seven Days
, Vermont's free, independent newsweekly, is a New England Newspaper of the Year. The paper bested dozens of other regional large-circulation newsweeklies in a competition organized by the
New England Newspaper & Press Association.
The results were announced in a virtual award ceremony last month.
The judges were impressed by the "tremendous amount of content" in
Seven Days
— both in print and online — and praised everything from the presentation of obituaries to the web design and navigation. "I could spend hours on the site!" one observed.
As for story selection, another noted, "They appear to cover stories that are controversial and that other papers may not cover. Lots of … important local issues but also interesting and thought-provoking articles." The judges hailed the paper's hallmark feature stories, food and drink section and "extensive coverage of all types of entertainment."
Asked what struck them most about
Seven Days,
the judges answered; "The investigative reporting;" "Tons of ads and classifieds;" "The amount of content;" and "I would read this every week."
The recognition is well-timed, according to
Seven Days
publisher Paula Routly. "Everyone on the team can celebrate this one," she said, "and that's just what we all need to keep going in this pandemic."
Seven Days
also received two "
Publick Occurrences
'" awards in the competition — named after America's first newspaper in 1690 Boston. NENPA presents up to 16 Publick Occurrences awards annually for "the very best work that New England newspapers produce each year."
The judges selected "
Worse for Care
," a joint investigation by
Seven Days
and Vermont Public Radio that exposed safety violations in Vermont's state-regulated eldercare facilities. One judge noticed the "smart and convincing reporting and editing" in the series, produced by VPR's Emily Corwin and Mark Davis, and
Seven Days'
Derek Brouwer, Matthew Roy, Candace Page, Andrea Suozzo and James Buck.
The second award went to "
Guarded Secrets,
" an investigation into Vermont's prison system written by Paul Heintz. One judge called it "a top-notch investigative report."