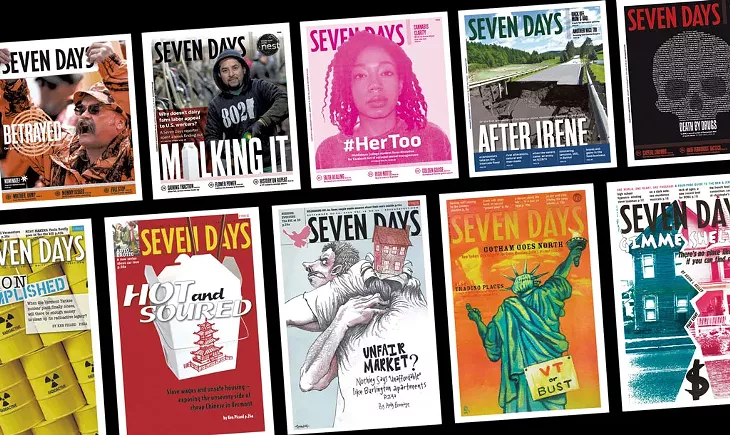 57 slides
S
even Days
started out as a 28‑page arts paper; for the first five years, most of the bylines belonged to its culture-writing founders, Pamela Polston and Paula Routly. Soon, though, there were 80 to 120 pages to fill each week. Adding local news to the mix seemed like the next logical step.
Seven Days
hired its first staff writer, Ken Picard, in 2002. He started churning out news features, including the first exposé of Mexican farm laborers toiling in secret on Vermont dairy farms, published in June 2003. The next year we launched the "Local Matters," section, located between Peter Freyne's "Inside Track" column and the paper's extensive arts coverage and comprehensive event listings. For decades Kevin J. Kelley, one of
Seven Days'
most prolific freelancers, reliably contributed news stories and art reviews.
When the Great Recession hit in 2008, the internet and websites like Craigslist had already begun to beat up daily newspapers. Vermont newsrooms contracted in response.

Seven Days
did just the opposite. Knowing that responsible, fact-based journalism is essential to a functioning democracy, its owners decided instead to expand.
Today our news team is one of the largest in Vermont, made up of experienced local journalists — including three editors in the New England Newspaper Hall of Fame — as well as a rising generation of talented reporters, writers and multimedia storytellers. In recent years, this team has investigated Vermont's nonprofit economy, the opioid epidemic, sexual misconduct in Vermont prisons and neglect in eldercare facilities. Another frequent topic: the state of local media.
If you appreciate
Seven Days'
in-depth news coverage and can afford to help us financially, please become a
Seven Days Super Reader
. Your recurring donation will provide a reliable revenue stream to help fund the award-winning journalism we continue to provide during these challenging times.
For the past 25 years, our local media company has depended almost entirely on advertising revenue from local retailers and events to pay the bills. Since March, COVID-19 has severely challenged that business model.
To thrive for another 25, we need your help. Can you cover us?