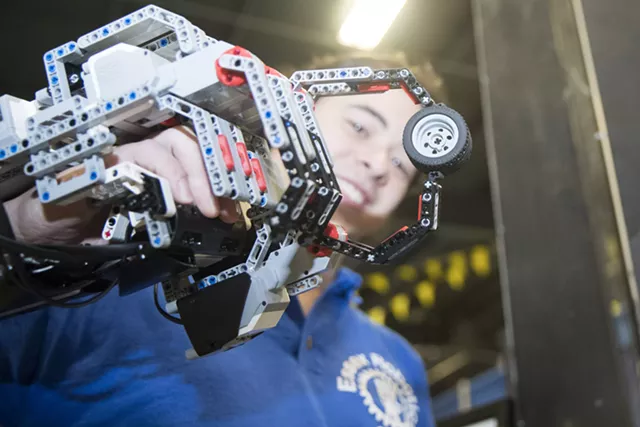 Dozens of the biggest and fastest-growing tech companies in Vermont will be hiring at the 13th
Vermont Tech Jam
. This annual free career and tech expo produced by
Seven Days
is on Thursday, October 17 from 9 a.m. to 5 p.m. at the
Champlain Valley Expo
in Essex Junction. It's one of the few times all of these companies come together under one roof to talk with job seekers and students and to discuss the innovative work they do.
It's also a great opportunity for those looking to get into tech fields to check out their options, and find out about local colleges and training programs.
The 2019 Tech Jam is presented by
Vermont Works
.
"We are excited to be lead sponsor of Tech Jam for the second year," said Vermont Works partner Louisa Schibli. "We're especially looking forward to the '7 Wonders' — showcasing some of our local entrepreneurs and businesses…Vermont Works is committed to making Vermont a community where our young people can stay and thrive, our companies have ample access to top talent, and we have a national platform for our entrepreneurs. Tech Jam is a big part of this mission — it increases opportunities for all Vermonters."
The schedule includes nine presentations organized along two tracks: one for entrepreneurs, business owners and tech workers; a second for professionals who want to take their careers to the next level.
The 13th Vermont Tech Jam offers:
Dozens of exhibitors, including sponsors Dealer.com, Data Innovations, Green Mountain Power, SunCommon, Vermont Information Processing and Norwich University plus companies such as Beta Technologies, Creative Microsystems, Mamava, Reading Plus and GlobalFoundries.
7 Tech Wonders of Vermont: Microchips! Mobile robots! Apps for mamas! Vermont tech companies produce a wide — and amazing — variety of products. Learn about seven of them in this opening session, which features bite-sized presentations by startups and established companies from around the state.
High-Speed Networking: Looking to connect with other like-minded individuals in the tech industry? At this session, you'll sit down for several nano-sized meetings with other professionals. This isn't a job interview; it's a chance to discover a potential new career path, make connections, learn about exciting projects and practice your conversation skills before you head out to the expo floor. You never know who you'll sit next to!
Inspiring Internships: Looking for an internship? These temporary positions can enhance your résumé and give you valuable work experience. Most of them come with a paycheck, too! At this session — geared toward potential interns and companies looking to start hiring them — representatives from companies with successful internship programs share their experiences and the career opportunities they offer. And an internship adviser talks about how to get hired.
Leveraging Blockchain to Build Startups and Jobs: "Blockchain developer" is the top-trending job in LinkedIn's recent U.S. Emerging Job Report, with a 3,300 percent growth rate over the past four years. Blockchain, the technology that powers Bitcoin, has proved valuable for many industries and remains one of the most promising solutions in a world looking for more privacy, security and transparency. Blockchain enables peer-to-peer and decentralized transactions, and its uses are still emerging. Speakers in this session will explain how blockchain helps solve specific business problems while offering a career path here in Vermont.
Switch It Up: Feeling burned out on your current career? Out of the workforce and trying to get back in? Want to try something new and not sure where to start? Whether you just graduated college or need a boost to get over or around an obstacle at work, this workshop is for you. Hear from a career coach and others who've been there about how to zero in on your unique skill set and determine what's next. You'll leave this workshop feeling energized and ready to rock.
Public Meeting of the AI Task Force: Artificial intelligence and machine learning offer great potential for the future of society. In 2018, the Vermont legislature created a task force to study AI and make recommendations for how the state could grow and/or regulate it. For a year, the task force has been deliberating and talking with Vermonters about their hopes, questions and concerns. At this public meeting, attendees can share their thoughts — and get an update on the group's progress.
Trust.IT: Trust as the Backbone of Business: In this age of data breaches, polarizing views and an ever increasing pace of business, it is more important than ever to build a company on the basis of trust — trusting the team, the tech and the customers. Join Vermont entrepreneurs and moderators Gwen Pokalo and Bonnie Reese from the Center for Women & Enterprise as they discuss building companies with trust as the backbone.
Good Citizen Challenge Launch: Seven Days, Kids VT and the Vermont Community Foundation launch the second Good Citizen Challenge. This youth civics project encourages Vermont students to demonstrate their knowledge of Vermont and U.S. history, as well as government, community engagement and news literacy. This year's Challenge is powered by a new game engine built by Burlington-based GameTheory; jammers will get to take it for a test drive.
The Tech Jam Awards: On Friday afternoon, the Vermont Technology Alliance and Seven Days present the three Tech Jam Awards, for Vermont's tech business of the year, emerging tech business and tech champion.
The 13th Vermont Tech Jam is sponsored by an array of Vermont companies and organizations:
Vermont Works
,
Vermont Information Processing
,
SunCommon
,
Data Innovations,
Dealer.com
,
Vermont Agency of Commerce & Community Development
,
Department of Labor
,
Vermont Tech Council
,
Norwich University
,
Collins Aerospace
and
Green Mountain Power,
with additional support from
Vermont Business Magazine
,
Comcast
and the
Vermont Technology Alliance
.
The Vermont Tech Jam was conceived in 2008 by
Seven Days
, the Vermont Technology Alliance and a coalition of public and private sector partners who sought to increase the visibility of the state's vibrant, and growing, technology sector. The event is produced by
Seven Days
, with organizational support from the Vermont Technology Alliance.
For more information, a complete schedule and a list of exhibitors, visit
techjamvt.com
.