Jeb Wallace-Brodeur
The Good Citizens met with Gov. Phil Scott in his ceremonial office
More than 70 Vermont students who completed the 2018
Good Citizen Challenge
gathered at the Statehouse in Montpelier on March 27 to be recognized for their accomplishment.
The Challenge invited K-12 students to earn points by doing a variety of activities related to civics, history, advocacy and media literacy —
all crucial elements
of being an informed citizen. These activities included attending city council meetings, picking up litter, reading local news articles, writing a letter to an elected official and naming the five freedoms specified in the First Amendment to the U.S. Constitution.
Seven Days
and
Kids VT
organized the initiative, with support from the
Vermont Community Foundation
. Its goal? To incentivize youth to educate themselves about the rights and responsibilities of citizenship, using their communities as a classroom. Students finished the Challenge by earning 251 points, the number of towns in Vermont.
The Statehouse event was part of their reward. The Good Citizens met with
Governor Phil Scott
in his ceremonial office and posed for a group photo.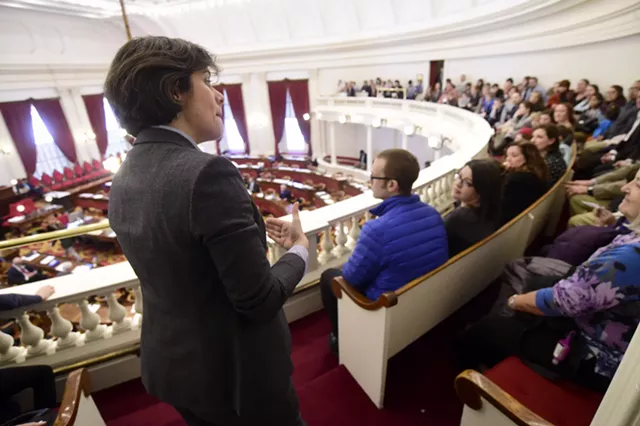 Jeb Wallace-Brodeur
Speaker of the House Mitzi Johnson also addressed the group.
"I think it's important for all of us to get involved and be good citizens, be public servants," said the two-term Republican. And anyone can run for office, he said. "I certainly didn't envision myself being in the position I am today when I was your age, not by a long shot."
Mitzi Johnson
(D-South Hero) also addressed the group.
Representative
Peter Conlon
(D-Cornwall) introduced the students from the House chamber floor; legislators gave them a round of applause. Afterward, each student received a medal, a T-shirt, a sticker and a pocket-sized U.S. Constitution, donated by
Phoenix Books
.
Jeb Wallace-Brodeur
Legislators applauded the Good Citizens from the House floor.
Seven Days
Deputy Publisher Cathy Resmer congratulated the Good Citizens. "You have just as much right to be in this building as anyone else here," she told the students in the Cedar Creek Room. "I hope that's something you'll take away from your experience today. This might be your first time here, but I hope it won't be your last."
Find more information and sign up to receive updates about the 2019 Good Citizen Challenge at
goodcitizenvt.com
. The Statehouse event is the subject of the April 4 episode of Eva Sollberger's "Stuck in Vermont" web video series. Find it at
sevendaysvt.com
.
Other Challenge partners included:
Front Porch Forum
, the
Young Writers' Project
,
Vermont State Parks
and
Historic Sites
,
GameTheory
,
Phoenix Books
and the
Winooski Peace Initiative
.
Here is a list of students who completed the Good Citizen Challenge, organized by town:
Barre:
Tyler Graves
Burlington:
Bella Olinger and Sam Reilly
Cabot:
Alan Moody
Charlotte:
Henry Bushey and Lila Bushey
Clarendon:
Ethan Bishop
Colchester:
Chris Palagonia and Ben Palagonia
East Montpelier:
Harvey Neddo, Joseph Neddo and Arthur Neddo
Essex:
Jack Dragoo
Essex Junction:
Isaac Dodge and Sawyer Kless
Jericho:
Henry Swisher
Manchester Center:
Lindsey Treat
Middlebury:
Henry Weston
Milton:
Hannah Smiley
Montpelier:
Thea Boyles, Teagan Brennan, Zoe Keuhl, Lily Meyer, Anna Newara, Somerset Pierce and Lachlan Pierce
Moretown:
Grace Heller
Morristown:
Hazel Longe
Morrisville:
Mabel Huard
Quechee:
Michael Leavitt
Rutland:
Jackson Kitts
Salisbury:
Riley Amerio, Thomas Bishop, Sophia Boise, Channing Brush, Meredith Cameron, Kayla Charbonneau, Keenan Chicoine, Ethan Delorme, Owen Flanagan, Josie Gaiotti, Chris Gile, Natalie Gillette, Vance Larocque
Jameson Maguire, Addison Moats, Emma Morrissey, Luke Nuceder, Yankee Rheaume, Sutton Rubright, Mercedes Sheldrick, Pela Slater, Makyliah Tellier
Tyreese Tucker, Gabe Velez, Cody Warner, Ada Weaber, Matt Whelan, Mykayla White and Holly Whitney

Shelburne:
Grace Warrington and Peter Warrington
South Burlington:
Rosalynn Manalo
St. Albans:
Ethan Oszurek and Sophia Oszurek
St. Johnsbury:
Phyler Holt
Stowe:
Lada Salida, Noah Vandenburg and Evangeline Vandenburg
Underhill:
Aly Dorman
Waterbury Center:
Janelle Hoskins
West Burke:
Ella Switser and Lucas Switser
West Rutland:
Miles Robbison
Winooski:
Graham Resmer, Ivy Resmer and Alia Ross