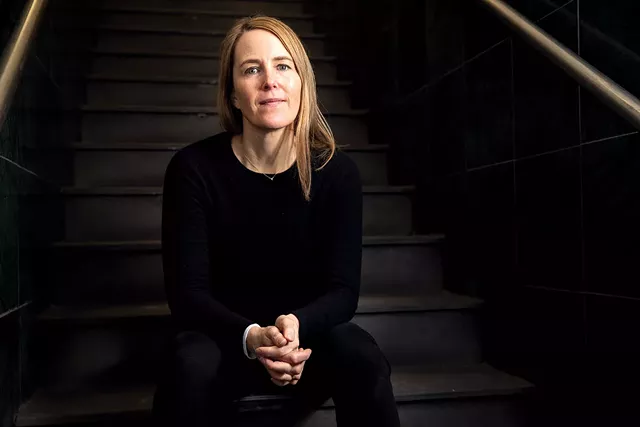 James Buck
Kate O'Neill
Burlington-based weekly
Seven Days
has launched a yearlong reporting project chronicling the opioid epidemic in Vermont and efforts to address it. The designated writer of "Hooked: Stories and Solutions From Vermont's Opioid Crisis" is Kate O'Neill, who has personal experience with the crisis: Her sister, Burlington mom Madelyn Linsenmeir, died last October after years battling addiction.
O'Neill described her sister's struggles in a heartbreaking
obituary
published locally in
Seven Days.
It spread quickly on social media, shared by national reporters and celebrities — even
Ivanka Trump
. Millions of people worldwide read it, and more than 1,000 left online comments describing their own experiences with addiction.
Seven Days
has covered many aspects of the opioid crisis — from
contacting the families of every overdose victim in 2016
to
investigating the lack of medication-assisted treatment for prisoners
— but this overwhelming outpouring of sympathy and grief suggests that there are still many more stories to be told.
O'Neill is uniquely qualified to tell them. A skilled writer and editor who worked as
Seven Days'
lead proofreader from 2008 to 2012, O'Neill got a crash course in substance-use disorder while trying to help her sister. As a full-time member of
Seven Days'
editorial staff, she'll have access to the weekly's award-winning writers, editors, digital producers and photojournalists, who will help inform and illustrate her work.
While her reporting will focus mainly on Vermont, both O'Neill and
Seven Days
hope that it will be relevant to out-of-state readers, as well. If a response to the epidemic is working here in Vermont, O'Neill's coverage may help it find a larger audience.
"Hooked: Stories and Solutions From Vermont's Opioid Crisis" is made possible in part by funding from the
Vermont Community Foundation
,
University of Vermont Health Network
and
Pomerleau Real Estate
. The series is written and edited by
Seven Days'
staff; underwriters have no influence on the content.
"We feel very fortunate to have the opportunity to work with Kate on this vitally important project," said publisher and coeditor Paula Routly, "and we're grateful to our underwriters for supporting her efforts."
Here's a Q&A
with O'Neill published in the January 16 issue of
Seven Days
; her first story will appear in February.
To contribute ideas or expertise to O'Neill's project, call or text 802-222-0975 or email her at
hooked@sevendaysvt.com
.